Sealed Roof Decks and Fortified Systems
Understand how to best protect your homes in severe weather, and possibly save money in the process.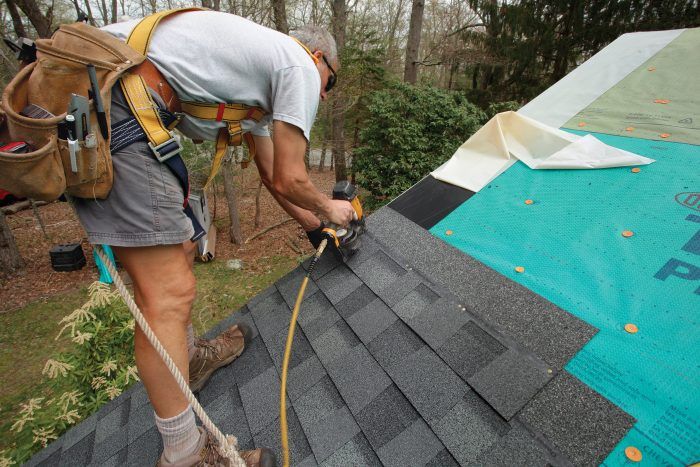 I keep hearing about sealed roof decks and FORTIFIED standards. Can you explain what the commotion is all about in regards to those two things?
—Wayne S., Bossier City, La.
Fred Malik, managing director of FORTIFIED at the Insurance Institute for Business & Home Safety, replies: In short, the FORTIFIED designation is about making homes more resilient against severe weather. FORTIFIED Roof is a voluntary above-code resilient construction and reroofing program based on decades of research by the Insurance Institute for Business & Home Safety (IBHS). A sealed roof deck is an easy and cost-effective way to make homes more resistant to water intrusion and is one of the key upgrades required for all three FORTIFIED designations, which include Roof, Silver, and Gold.
Post-disaster studies by IBHS show that between 70% and 90% of catastrophe-related insurance claims include damage to the roof, and it can rapidly escalate when water enters a home and destroys the interior and personal property. At its research facility in Richburg, S.C., IBHS compared sealed and unsealed roof decks on full-scale buildings subjected to winds up to 130 mph with up to 8 in. of rain per hour. The research showed that by securely covering the gaps in a roof deck, you can prevent as much as 95% of that water from entering a home when shingles are lost due to high winds leaving the roof deck exposed.
IBHS recommends three methods for sealing the roof deck:
A 4-in.-wide (nominal) ASTM D1970 or an AAMA 711- 13, Level 3–compliant self-adhering flashing tape covering all deck seams
Self-adhered membrane (meeting ASTM D1970 requirements) covering the entire roof deck
Two layers of 30# felt, which must be ASTM D226 Type II or ASTM D4869 Type III or IV organic felt underlayment, with a 50% overlap and attached with 1-in. button cap nails
A sealed roof deck is just one of the upgrades from common construction practices required by the FORTIFIED Roof standard, which was developed by IBHS to help home and business owners to protect their property from severe weather. The standard is the heart of the FORTIFIED program, which also includes contractor education and independent verification of FORTIFIED projects. The program offers three levels of protection so homeowners can reach their individual resiliency goals.
Everything starts at the roof, a home's first line of defense. In addition to the sealed roof deck, FORTIFIED Roof requires that the deck be secured to the trusses with ring-shank nails. This small change can double the amount of storm pressure a roof can withstand. Finally, extra attention is required at the roof's edge. A starter strip is required and must be securely attached, either by using a bed of mastic or a self-adhering product. Also drip edge must extend 1/2 in. below the sheathing and extend back on the roof by at least 2 in. and be overlapped by 3 in. at joints.
All of the requirements of FORTIFIED Roof are also included in the next two levels: FORTIFIED Silver and FORTIFIED Gold. FORTIFIED Silver seeks to reinforce other areas of the home that IBHS frequently sees damaged by storms, including openings. Garage doors must be adequately rated to protect what is often the largest opening in a home from wind and storm pressure. Chimneys and gable ends must be braced to prevent them from collapsing during high-wind events. And, attached structures, like carports and covered porches, must be securely attached to a home and properly anchored to the ground in order to keep them from being pulled off the house during a storm.
FORTIFIED Gold offers the maximum protection against severe weather. It includes all of the requirements of FORTIFIED Roof and FORTIFIED Silver, plus a continuous load path. This means a home's roof-to-wall, story-to-story, and wall-to-foundation connections have been engineered to withstand the wind and pressure it is likely to face in a severe storm. Creating a cohesive, solid structure is the key to keeping the roof on and the home in place when high winds or hurricanes threaten.
Making our homes as strong as possible is becoming increasingly important, as storms are coming with increased frequency and intensity. In 2020, for example, there were 30 named tropical systems and over 1000 confirmed tornadoes. Collectively, these severe weather events caused almost $100 billion in damage in the United States. While we can't stop hurricanes or tornadoes from forming, we can reduce the damage they cause by taking a few extra steps when we build or reroof homes.
In addition to creating stronger and safer homes, a FORTIFIED designation might qualify a home for insurance discounts and other incentives such as tax credits or deductions. FORTIFIED designations could also increase the value of a home by almost 7% where the program is recognized.
---
RELATED LINKS