Tradesperson: Celeste Lamondin, Heritage Mason
A heritage mason based out of Toronto, Celeste Lamondin talks about how she got into the trade, finishing her apprenticeship, and more.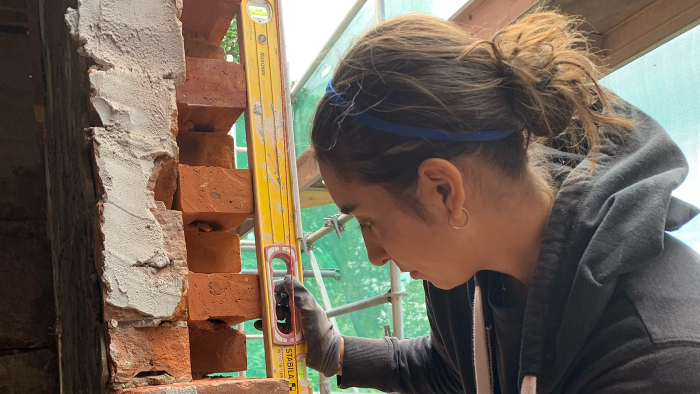 Celeste Lamondin (she/her) is a heritage mason based out of Toronto. You can follow her work on Instagram via @brickdaddyto.
Q: Describe the work that you do in the home-building world? How did you get into the craft and what has kept you there?
C: Currently I am working as a heritage mason. In a nutshell, we help preserve the history of older homes. Through careful restorative practices we are able to restore and prolong the life of masonry buildings. I found this side of masonry completely by accident. New builds, which is the most common type of masonry, is very prominent whereas heritage masonry is a smaller niche section of the industry. I was looking for a position as an apprentice and found my current employer through an Instagram story highlight stating "looking for women in construction." Since I was very new to the trade, I had no idea the difference between new build and heritage masonry, so I signed myself up.
Q: What sort of formal or informal training and education have you received as part of your journey?
C: I have just finished my three-year apprenticeship this year. Apprenticeships generally take 5600 hours to complete. You can also write a Red Seal exam to receive the designation and be recognized nationally. I will be challenging the Red Seal later this year or early next year.
Q: What kind of projects do you typically work on, and which ones are the most exciting or fulfilling for you?
C: The types of projects we typically work on are 50-to-110-year-old brick homes. The majority of these homes need the same thing: failing bricks and mortar joints need to be removed and replaced. We typically work in a very dusty, dirty environment because of this. So generally, when we have things like traditional tuck-pointing or building a new addition, the whole crew is excited.
I would say the most fulfilling projects are the ones where you can't tell you were ever there. Everything is so closely matched. We often use reclaimed bricks for our projects so that the home is being rebuilt with bricks from the same century. We also color-match the mortar so it's a seamless transition from new to old.
Q: Tell us about any favorite materials, tools, or techniques you're finding helpful right now.
C: The most helpful tool I would have to say is the internet. I absolutely love that you can go on Instagram and almost always find someone to help you solve your issue. Its so easy to share knowledge now, instantly! My second favorite tool would most definitely have to be the ArborTech. It makes joint/brick removal extremely fast and also mostly dust free. With its oscillating blades and endless sizing, you'll find the right fit for the job!
Q: What have been the crucial steps or learning points to get where you are in terms of masonry/home-building?
C: A crucial point that I picked up in the home-building world is to know your worth. Even if you're just starting out, if you know you're timely, efficient, and hardworking; you love to take on challenges; and you're accepting of your shortcomings, I don't think it is okay to tolerate someone taking advantage of you. There will be a company or a business or a person who will recognize that and you will not only excel in your craft, but it will also benefit whomever you're working for.
Q: What sort of challenges/barriers have you faced in your learning process or career?
C: There have been quite a few barriers I faced as a woman entering this career. I've been dropped from my company before even working and I have faced sexual harassment from my co-workers and even bosses. My credibility, intelligence, and strength have been questioned countless times. I now know this was never a reflection of my work or even me as a person. Understanding this helped me further myself as a mason and hone my abilities in a safe and comfortable learning environment.
Photos courtesy of Celeste Lamondin
---
RELATED STORIES