Balancing Density and Privacy in Los Angeles
Four 2200-sq.-ft. detached homes provide flexible open-plan housing on this Los Angeles block.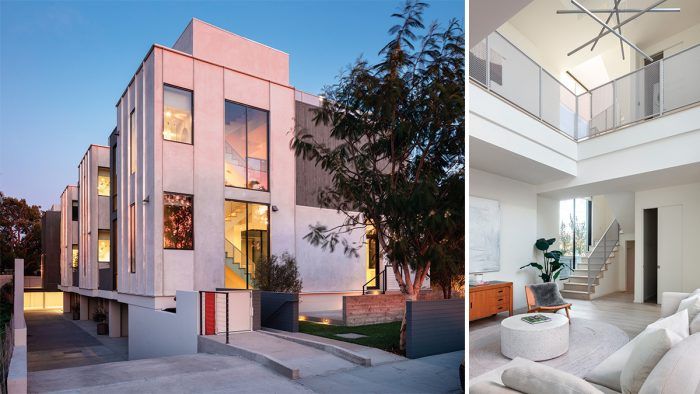 By replacing a single 1200-sq.-ft. bungalow with four 2200-sq.-ft. detached homes, KAP Studios has created a steep change in density on this Los Angeles block that effectively establishes a new "small lot" typology for housing in Culver City. The four new homes offer open-plan living with double-height rooms, roof terraces, extensive glazing, and natural light.
All bedrooms have en-suite bathrooms and each house a two-car garage. The homes create spaces of cohesion between the indoors and outdoors, making them perfect for entertaining within the home and out on the patio.
A minimal and modern external aesthetic creates a connection to nature through the use of natural timber that weathers beautifully over time. Large ceiling-height windows and white stucco provide clean lines and balance out the 6-ft. vertical silvered-wood cladding. Contrasting black railings and windows frame the exterior. Inside, the social spaces are designed in modern white stucco and glass. Sanctuary rooms such as bedrooms are wrapped in timber with private timber terraces, while the circulation areas such as the internal stairs and main entrance lobby are screened in metal.
The screened metal staircases extend from the interior to the rooftop terrace, creating a seamless transition from indoor to outdoor. This allows for greater subdivision of land and enables developers to provide more flexible infill housing schemes as a smart growth alternative to traditional suburban-style single-family subdivisions.
Architect KAP Studios, kapstudios.com
Builder LHR Builders, [email protected]
Location Los Angeles
Photos Mike Kelley
From Fine Homebuilding #314
---
RELATED STORIES