How-To
Heating Historic Houses with Heat Pumps
Is a 1850s Colonial a good candidate for a heat pump system?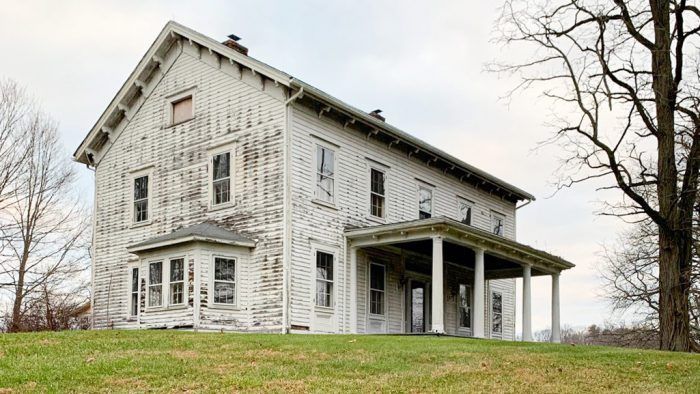 Air-source heat pumps, and particularly ductless minisplits, are becoming the go-to HVAC choice for a growing number of builders and homeowners. Tight, well-insulated houses are especially good candidates because the heating and cooling systems can be relatively simple.
But what about really old houses? Is the case for heat pump technology as compelling there?
That's the question Curtis asks in this Q&A forum post about a 4000-sq.-ft. house dating from the 1850s in New York's Hudson River Valley (climate zone 5b). He aims to reduce the use of fossil fuels as much as possible.
"Since the house needs a full renovation (including a new HVAC system), we were hoping to move over to a fully electric heat pump system," Curtis writes.
The house needs a new roof, including the roof deck, so Curtis can do a substantial retrofit there, with insulation above and below the sheathing. In the basement, he plans on adding 2 in. of spray foam from the floor to the rim joist. Wall cavities, however, won't get nearly the same attention due to historic details on both the interior and exterior of the house. Plus, on much of the first floor, there's brick between the plaster and the exterior siding.
He'll know more about his options once the insulation retrofits are complete and a Manual J calculation has been done. But his HVAC contractor is guessing that he'll need to install backup propane heat, an option that Curtis would like to avoid.
"I'm curious what the thoughts are on being able to heat our house with just heat pumps," Curtis says, "and more generally, what people's experiences are with larger older houses and heat pumps when it comes to comparing expense to efficiency to comfort."
That's where we start this Q&A Spotlight.
Make your backup heat electric
Including backup heat is a good idea, says jrpritchard, but there's no reason that it has to be a system that burns a fossil fuel.
"Is there a reason why you can't incorporate electric back up?" he writes. "Most conventional brands like Lennox, Trane, or Carrier offer air handlers that can accept heat packs that can act as backup or supplemental heat."
Mitsubishi and Fujitsu brands are better in cold temperatures, and Mitsubishi offers an air handler that easily accepts an electric heat pack, he says, adding that he always incorporates some form of backup heat for his customers in Iowa, which also is in climate zone 5.
The only reason to consider a gas furnace is if Curtis is concerned about power outages, says William Morse. Otherwise, a good quality minisplit, like those from Fujitsu or Mitsubishi, will work fine in that area.
"Just incorporate electric backup as needed," Morse says. "And even there, why not just wait and see what if anything is needed? In the meantime, you can buy some cheap 1500-watt heaters, if you are worried."
Two other ideas to consider, Morse adds, is adding a good backup generator, which would keep the refrigerator running in addition to providing emergency heat, and solar panels for the rebuilt roof.
Propane has pros and cons
In order to choose the best kind of backup heat, Charlie Sullivan suggests that Curtis consider the three purposes that it serves:
Backup heat should work when the power is out.
It should work when the heat pump doesn't.
It should be a source of supplemental heat when the heat pump just can't keep up with demand.
A furnace running on propane (LP) needs electricity, meaning it's not a good source of heat when the power goes down. And it might not cover the second contingency.
"I kind of like simply having enough electric space heaters on hand to cover that issue, because then your backup is truly independent," Sullivan says. "… If you plan for your design to cover almost all cases and just want some additional capability for peace of mind, adding electric heat strips is cheaper and gets you away from having to store LP gas onsite."
When the power is out, there are only two heat sources that will work—a wood stove or a generator, he says, adding, "One possible argument for LP is that a tank of it could serve your generator and your heating needs, and the generator could be smaller if it is only running a fan and not a heat pump."
Effectiveness depends on house layout
The HVAC contractor guesses that Curtis will need a pair of 5-ton heat pumps, which Jay Thomas thinks is a little off. But the main question is whether heat pumps will be effective in an old house.
"Depending on your floor plan, minisplits work well in old houses," Thomas writes. "I have a 1920 house, about the same square footage as yours, and in a similar climate zone, and I get by with two 18,000 Btu/hour minisplits on opposite sides of my first floor and a single 12,000-Btu split that handles heating for the second and third floors."
Thomas also wonders whether the house has any fireplaces. He retrofitted his fireplace with a gas insert, which is his source of backup heat and also cuts the cost of running the heat pumps when their efficiency falls off.
"When I moved in, we were set up with 250,000 Btu of steam and hot water," Thomas says. "Now we seem to be down to about 36-40,000 of mini splits at the 99% point by just working on air-sealing, attic insulation, and rim joists."
GBA reader Evantful tells Curtis that based on his own experience, minisplits will do the trick. Evantful also lives in New York State, on the edge of climate zone 6, in a 1950s ranch with some but not a lot of insulation. He replaced his 30-year-old oil furnace with two Mitsubishi units—rated at 12,000 and 9,000 Btu/hr—nearly three years ago and has run the house on them exclusively ever since.
"During the winter of 2018/2019 we had the second and coldest lows on record for Ellenville at -13 and -14, with daytime highs in the single digits," Evantful said. "At no point did we need supplemental backup and this was during a period when we still had all the original single-pane windows and much of my air-sealing still had yet to be done."
During power outages, Evantful uses a 7500-watt generator, which manages the minisplits, the water heater, lighting, outlets, and the refrigerator.
Take a look at past heating bills
Calling the estimate for two 5-ton heat pumps (capable of putting out 120,000 Btu/hour) a "little off" is probably an understatement, says Dana Dorsett. He suggests that Curtis run a fuel-based calculation of his heating needs based on records he should already have. (Dorsett explains his technique in this article.)
In the meantime, Dorsett says it's unlikely that a house of that size would need that much heat—unless the house has all single-pane windows with no storm windows, and the temperature dips as low as 10℉ below zero.
"After air-sealing and insulating (including basement walls) and installing low-e storms (or replacement windows), it should come down t0 6-7 tons, maybe even a bit less," Dorsett says. "Getting it to under 5 tons (for the whole house) is likely possible, but only with a substantial amount of analysis and work."
Another option Curtis might consider, Dorsett says, is a ground-source heat pump (GSHP) through a company called Dandelion, although sizing it correctly will be critical. Even with New York's electricity rates, sizing the heat pump for the 99% design load and using auxiliary electric heat strips during bitterly cold snaps would be a better choice than a heat pump plus a heat source using a fossil fuel.
"With the former, the auxiliary heat only needs to cover the difference needed to not lose ground," Dorsett says. "Most of the heat will be coming from the GSHP at a COP [Coefficient of Performance] of about 4, whereas with dual-fuel approaches the heat pump has to turn off, and the fossil burner carries the entire load.
"Propane heat is probably never going to be as cheap as a GSHP at a COP of 4, and even #2 oil is usually more expensive, even at the currently low post-pandemic oil pricing."Curtis replies that he had considered a ground-source heat pump but had assumed it would be too expensive. But when compared to a suggestion from his HVAC contractor that he install a propane boiler in addition to three heat pumps, he says that might not be the case.
Our expert's opinion
Ross Trethewey adds these thoughts:
Minisplit heat pumps can be effective in heating older homes when designed and installed appropriately, but in many cases a building upgrade will be required. The building's thermal envelope is very important, including the roof insulation, wall insulation, basement insulation and window U-value/Solar Heat Gain Coefficient. Perhaps equally important is the air leakage rate of the building. If the building is leaky, the minisplit will struggle to make occupants comfortable.
My recommendation would be to run a blower-door test for the building as it currently stands. This would establish the baseline air-leakage rate for the building, and can be used to normalize the Manual J and the existing fuel bill data. The homeowner should look to air-seal as much of the building as possible when the insulation upgrades to the roof and basement walls are made. After that work is completed another blower-door test can be run. The new air-leakage data, along with any other building upgrades, can be input into the Manual J to more accurately size the heating (and cooling) system.
With the proper load determined, the appropriate minisplit, whether ground-source (geothermal) heat pump or other heating system, can be selected and designed. With air-source heat pumps, be sure to select a cold-climate version, one that can handle the expected temperature ranges of the location. It should also include a base pan heater to melt any residual water that runs off the outdoor coil into the pan during defrost mode. In addition, be sure to mount the unit above the anticipated snowline with ground-mount stands or wall brackets.
Defrost mode can create comfort issues inside the home, especially for poorly insulated/air-sealed homes because the heat pump does not produce any heat during defrost, and actually temporarily runs in cooling mode to steal some heat from inside to warm up the outdoor coil. This is why a backup heating source is typically recommended in this application. An electric duct heater is a common approach to solve defrost comfort issues. It also provides a temperature boost, when needed, and peace of mind should the outdoor heat pump unit fail in the winter. This type of system requires ductwork, so normally it is installed on the first-floor air handler system, which is run in the basement ceiling. This also supplements the second floor passively, as buoyancy drives heat to rise.
Ground-source heat pumps are a great solution for this application, as they provide higher efficiencies as compared to their air-source counterparts. Plus, they do not have defrost or any outdoor equipment, which means they have less environmental impact, require no fans, are quieter, and have no siting issues. But they are more expensive to install, require enough yard space to drill wells, and need a more skilled install team (driller, HVAC contractor, etc).
In the Northeast, many older buildings have an existing forced hot water baseboard or cast-iron radiator system. For homes that are not well insulated/air-sealed or for homeowners who are concerned about the effectiveness of the minisplit system, we recommend they leave their existing heating system in place. This can provide peace of mind, and also provide supplemental heat when the outdoor temperature drops below the thermal balance point (the outdoor temperature at which the heat pump can no longer heat the building).
Some of the questions the homeowner should also consider:
If the goal is an all-electric home, what gas appliances are currently installed in the home, and is the homeowner willing to remove them (gas stove, gas fireplace, etc)? If replacing with an electric version (induction cooktop, electric fireplace, etc) does the current electric service support these new electric loads, or is an electric service upgrade required?
Is the area prone to utility power outages? If so, a backup generator or energy storage system (home batteries tied into solar or wind) might be worth considering. If the heating system is gas-fired, the generator size will be much smaller when compared to an electric-based heating system.
How is the domestic hot water produced? If an all-electric solution is preferred, air-source heat-pump water heaters might be a good choice. However, be cognizant of question #1 and #2.
Generally speaking, it can get very expensive to upgrade the thermal envelope and air-seal a large, older building in order to have a comfortable indoor environment with minisplits as the sole source of heat. We often see homes like this tackled with a dual-fuel hybrid approach that combines the existing gas infrastructure and minisplits. The gas appliances provide backup space heating, domestic hot water, cooking and fireplace heat, while the minisplits provide the majority of the space heating and air conditioning. A small gas generator can provide backup power to the house in the event of a power outage. The electric service in this case does not need to be upgraded. This type of system also allows hedging against energy price volatility, as the house can be heated with either electricity (heat pumps) or with the gas boiler or furnace. Dual-fuel approaches seem to provide a good balance of comfort, cost, and disruption for these types of applications.
---
Previously published on GreenBuildingAdvisor.com. Scott Gibson is a contributing writer at Green Building Advisor and Fine Homebuilding magazine. Ross Trethewey, a professional engineer, is the founder and lead engineer for TE2 Engineering in Boston, Mass., a consulting firm specializing in high-performance buildings. He is the home technology expert for the television show "This Old House" and "Ask This Old House." Comments from GBA readers may have been lightly edited for clarity. To see the original post, use the link at the top of the article.

Previous:
Is a Heat Pump More Efficient Than a Furnace?
Next:
Planning a Furnace-to-Ducted Heat Pump Retrofit