Tools & Materials
Manometers: Essential Home-Energy Testing Equipment
Digital air-pressure measuring devices are the primary tools used by energy raters to test home airtightness, duct leakage, and other important building diagnostics.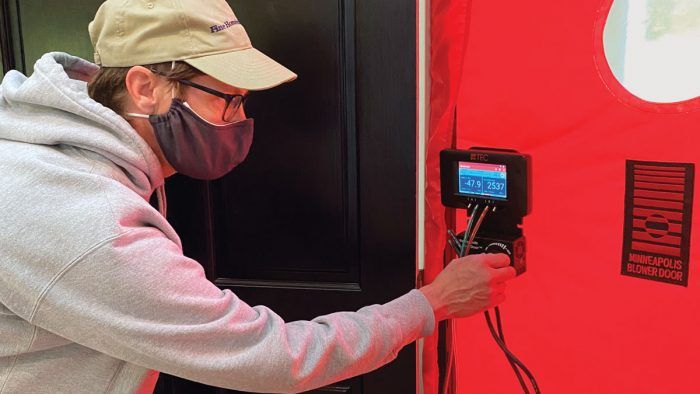 The digital manometer is the backbone of an energy rater's tool kit, used dozens of times a day, often in conjunction with blower doors. There are two at the top of the field: The Energy Conservatory (TEC) DG-1000 and Retrotec's DM32. These manometers can measure air pressure in two places at once and are used for home-­performance testing, duct-tightness testing, and building diagnostics. They're touch-screen controlled and have built-in Wi-Fi and rechargeable batteries.
The basic functions of the two manometers are similar. Both show pressure and/or flow on the screen, as well as the selected setup and flow ring. Both create a Wi-Fi signal for connection to a phone for remote control of the gauge, which is very useful for testing multifamily buildings and producing app-based reports. Both have automatic fan-speed controls for reaching target pressure and graphics that show the correct tubing setups for common test scenarios.
An ability to update the software and firmware makes these instruments relatively futureproof and a solid long-term investment. While both devices perform as advertised, the Retrotec is superior. Our company recently replaced nine TEC DG-700s, TEC's previous manometer, with DM32s, because the DM32 starts faster, has better features, and is more-rugged than the DG-1000.
Recommended recalibration 5 years ($165 plus two-way shipping)
Start-up time 10 seconds
Software update method USB to PC with Retrotec software
Equipment compatibility All Retrotec equipment and TEC blower doors, duct blasters, True Flow, and exhaust fan flow hood
Multipoint blower door Capable with Wi-Fi and companion phone app
Battery life Up to 11 hours
Screen size 3.2 in. vertical
Price $1600
Recommended recalibration 2 years ($135 plus one-way shipping)
Start-up time 1 min. 26 seconds (45 seconds to main screen, 41 seconds to gauge ready)
Software update method Wi-Fi connection
Equipment compatibility All TEC equipment (user- friendly digital assistant walks through various setup options on screen)
Multipoint blower door Capable with PC and TEC software
Battery life Up to 15 hours
Screen size 4.3 in. horizontal
Price $1575
---
RELATED LINKS:
---
– Ross MacPherson, operations manager for New England Air Barrier in Sagamore Beach, Mass. Jacob Bodah of Home Energy Raters LLC also contributed to this article.
 Originally appeared in Fine Homebuilding #299 titled "Powerful Manometers"
Previous:
5 Reasons to Own a Blower Door
Next:
Deep Dive into Blower Door Testing