Tools & Materials
Solar Energy Storage Options
Learn what the current options and trends are for battery-backed and renewable-generator backup systems, bidirectional chargers, and more.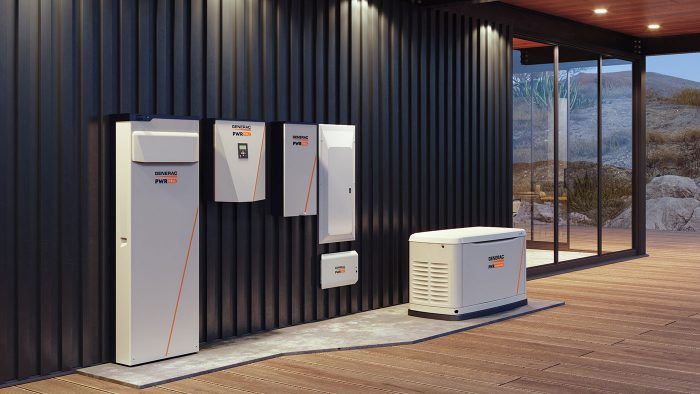 The combination of extreme weather events, aging power grids, and more people working from home is driving an overall trend toward energy resiliency. Collecting clean solar energy is part of the solution, but only when storage is added.
"There's a basic misunderstanding," said Zach Snyder, program manager at Solar Oregon, a nonprofit solar advocacy group. "People think they can rely on solar when the grid goes down, but you need battery storage to keep the power on."
As I pointed out in The Steady Surge in Residential Solar, which focused on the components that collect solar energy, increasing efficiency and falling prices are turning more and more homes into candidates for photovoltaic (PV) power, and a big federal incentive program has been extended to promote the PV path to clean, green energy—which is ultimately free for consumers after a relatively short payoff period, considering the 30- to 50-year working life of most solar arrays.
This article focuses on the other end of the equation, battery storage, which offers its own array of increasingly attractive benefits. Led by Tesla's popular Powerwalls, battery storage can replace the grid during power outages, backing up your whole home or just a few essential circuits, like a generator does— but without the noise, carbon footprint, and long-term cost of fuel and maintenance.
Battery storage is trending
Battery-based backup systems are pricey enough to double, triple, or even quadruple the installed price of a typical PV power system, depending on storage capacity, how many circuits you want to back up, and the home's overall energy demands. So, while up to 50% of new solar customers inquire about batteries, the actual "attachment" rate is closer to 20% for new customers across the U.S., according to EnergySage.com, a resource for up-to-date information on residential solar as well as price quotes from local installers. That rate is growing, however, up from just 10% a few years ago.
One hot spot for storage is California, where long outages are increasingly common. Another driver in the Golden State and other states with utilities that raise electricity rates during periods of peak use is "rate-shaving." This is done by filling up the batteries earlier in the day when the sun is strong but rates are relatively lower, and releasing that backup power in the afternoon and evening when rates increase. All battery systems can be programmed for rate-shaving, keeping batteries topped off and healthy. Backup systems are also popular in areas with very hot summers—to keep the AC running—and very cold winters—to keep pipes from freezing.
Another reason to consider battery backup is the federal Solar Investment Tax Credit (ITC), which allows residential solar customers to deduct 26% of the cost of their system from their taxes owed to the IRS. For the average $27,000 solar installation, for example, the credit takes $7000 off the bill. And it has no limit, so the rebate can be two or three times more for systems with battery backup. State incentives, where available, can subtract thousands more.
While the U.S. Congress has extended the ITC through 2022, with a reduction planned for 2023, state programs have dwindled somewhat, so there are no future guarantees. On the other hand, more and more companies are jumping into the battery-backup game, which is likely to lower prices per watt, just like it has for the components that collect solar energy.
Tesla dominates, but competitors are charging
While battery backup systems include suitcase-sized units that can keep just the fridge and/or essential life support going, the most popular choice for residential solar customers is a larger bank of batteries, often installed in the garage and able to backup critical circuits, if not the whole home, for days at a time.
While there are a number of battery systems for residential solar energy, Tesla's modular Powerwall system, based on the same batteries that go in its cars, has grabbed a dominant position in the U.S. market with an unmatched combination of price and storage capacity. But long lead times and rising prices for Powerwall batteries have opened the door to competitors, and now almost every major solar manufacturer is offering a battery system of its own in an effort to capitalize on the increasing demand.
"While the collection side is consolidating, and pretty steadystate right now, the battery side is a wild west," said Jim Bakhaus, a longtime residential installer and now a project manager at Denver-based Resort Energy Ventures.
Most customers choose to install a single Powerwall, which adds $10,000 to $15,000 to a typical solar installation. It offers 13.5 kilowatt-hours (kwh) of storage capacity on a single charge, enough to back up essential circuits for a few days or more. Each additional Powerwall adds $10,000 or more each, with three to four needed for whole-home backup. Powerwall models will accept either AC or DC power from the PV array, meaning they will work with either optimizers or micro-inverters for all new PV systems and all retrofits—and transfer power in any direction, to and from the grid, and back into the home.
The downside of the popular Powerwall is the long lead times—reported to be nine months or more in some cases. To keep them in stock and eliminate delays, larger companies like ReVision Energy can preorder and buy in bulk, but that isn't an option for most companies. "Powerwalls are still better in every way," said John Grieser, co-owner of Elemental Energy, "so if customers are willing to wait, they get more bang for the buck."
Other battery systems are more readily available but cost relatively more per kwh of storage capacity. They also tend to be compatible with either AC or DC power from the solar array, but not both. Enphase designed its AC-coupled Encharge storage system to work seamlessly with its microinverters, while SolarEdge's Energy Hub inverter is DC-coupled, designed to connect its optimizers efficiently to DC-coupled batteries, such as those from LG and Sonnen. (Each time DC is converted to AC, or vice-versa, the inverter takes a bite out of efficiency). SolarEdge is also in the process of making its Energy Hub inverter compatible with a traditional backup generator, as Generac has done recently (see more below), allowing unlimited, whole-home backup for extended outages. The technical details can be confusing to work out, but your local installer will help you find the best storage solution for your budget and installation.
Generac jumps in with a splash
The big player in traditional standby generators recently jumped into the renewable-energy space with an integrated suite of solar components called PWRcell, which includes a modular, scalable battery system that can be backed up by a new, specialized generator, ushering in true energy independence for indefinite power outages. Called PWRgenerator, the specialized backup generator can be powered by propane or natural gas, and feeds DC power into the PWRcell batteries, making the entire Generac system DC-coupled for maximum efficiency.
PWRgenerator means that customers won't need as big a PWRcell battery array to create true whole-home backup, with the gas-powered generator kicking in only when needed. Generac also claims that its unique, fuel-injected DC generator is more efficient and quieter than others at 60 db., and runs at slower rpms, doubling the interval between required service. Whether you buy PWRcell batteries only or the integrated suite that includes PWRgenerator, the system is controlled by Generac's new user-friendly load-management device, PWRmanager, which budgets backup power according to user-defined parameters, controlled by an intuitive smartphone app.
Unlike third-party load-management devices, PWRmanager is designed specifically for the DC-coupled PWRcell system, with plug-and-play connections that make installation quick and easy. Manufacturing everything but the solar panels themselves, Generac is aiming to be a one-stop shop for solar customers and installers. Rounding out their integrated suite of products and components is a new family of micro-inverters, called PWRmicros, designed to work seamlessly with the rest of the system. Generac is confident that its big bet on renewable energy will pay off. "Everything is heading toward energy independence," said Generac's marketing manager for clean energy, Jeremy Niles.
Small solutions have their place
At the other end of the cost spectrum is a range of smaller backup solutions, starting with a traditional generator. "For less than $5000, you can buy a small generator for critical loads," Bakhaus said, although they can be noisy and require more maintenance.
For a moderate amount of clean, quiet energy—more than enough to keep phones and laptops charged and life support or a fridge running for a few days—there is a range of portable power stations. Falling somewhere between a phone charger and a Powerwall, they range in price from a few hundred bucks to $5000.
Goal Zero offers a great line of lithium-ion power stations, with its top-end Yeti 6000X model ($5400) packing 6 kwh of juice into a rolling unit that can hide in the bottom of a closet, and its bestselling Yeti 1500X offering 1.5 kwh of capacity (and a $2000 price tag). Compare that to the Powerwall's 13.5 kwh, and you'll see how these portable home batteries offer a relatively affordable solution for short outages. You'll find a longer list and wider range at greenchange.net/actions/batteries.
– Asa Christiana is a contributing editor at Fine Homebuilding.
Photos in the article are courtesy of the manufacturers.
From Fine Homebuilding #306
---
RELATED STORIES
Previous:
Net-Metering Is How Most Solar-Powered Homes "Store" Electricity
Next:
Rules for Storing Your Own Electricity