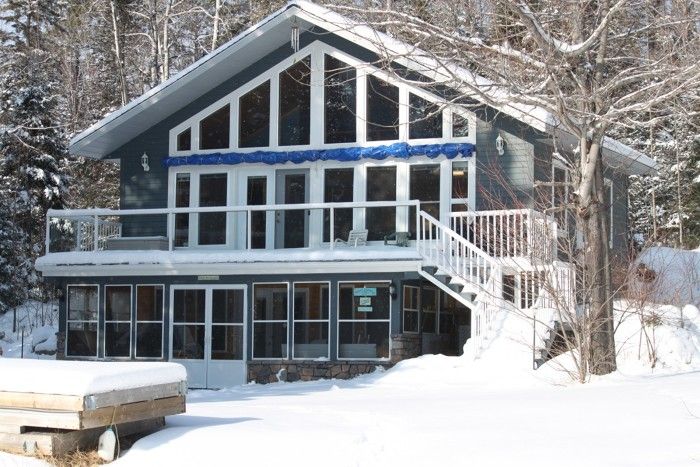 We have a existing cottage (Pics Are available via email ) we are adding a great room ,masterbedroom ,exercise room basement on the west side
East side = Mudroom / Laundry rm /Garage entrance  . Below is a bedroom 
As the lake is south of us we try to incorporate this view
Nature viewing is from the loft and master bedroom
Location Barrys Bay Ont Canada N2P 2L1  We are oriented about 12 degress South west and have a very good potential for passive solar gain
We have designed and also drawn our own plans
As we are in Canada we are required to submitt a Energy Audit along with our request for a building permitt . Our Plan is to insulate well and use wood as our main heat source.as we are 1/2 mile off the main road and require back up power we will add propane generator and transfer switch We will install 1 propane  fireplace and a propane 5 burner stove ,as we entertain we find this to meet our needs .the lighting will be Led and a valance will be used to house the fixtures . We are presently working on duct work with inline plans to move heat from the main stove area to each room that requires heat . For A/C we intend to dehumidify the basement air and use our heating fans to move cool air to designated rooms . Walls are R 35 ceiling R 70 . basement walls R 20+ . we are using V joint Cedar and red Pine for wall interior wall finishes . Thanks to your articles in the Best of Fine Home Building Winter 2012 our knowledge has increase 2 fold and helped in designing our home.
We are presently investigting the use of solar panels .ontario has the OPG which will reimburse us at 54.6 cents per KWH
As I am a Master Electrician and have installed several projects we can save on the installation costs and reduce our payback costs
This is to be our retirement home 
The home can be shut dwn and left for long periods without worring about freezing Etc.
Thank You
Gil / Vicki Glofcheskie