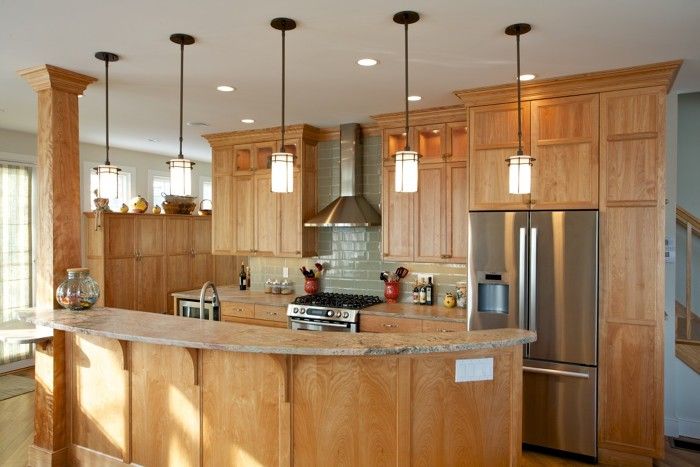 This easy-living retirement home, designed and built by Simmons Quality Home Improvement, Inc., is located in a tight beach community near Long Island Sound. The priority in designing the house was to gain views of the Sound while keeping within the constraints of the site and close proximity to the neighbors. Over-sized windows wrap the South-West corner of the first floor to take advantage of the glimpse of the Sound from this level. The open kitchen/dining/living room is bright and cheery from the natural light and tall ceilings. Tucked in the quiet North-West corner of the first floor is an office that doubles as an extra guest room. The second floor is dedicated to bedrooms, all with ample built-ins for storage. The master suite has views of the water above the neighboring roof tops, including a view from the master shower. Open space on the third floor houses a bunk room, a recreation room complete with a wet bar, and a balcony overlooking Long Island Sound.
The exterior of the house is wrapped in pre-dipped cedar shingles, clad low-E windows, and salt-air friendly Azek trim for low maintenance. A must-have fresh-air shower stall features whimsical swinging doors, a reflection on the retiree's carefree outlook. The bluestone patio is free-formed and its steps lead to the neighborhood's beach walkway.
Custom details, exterior and interior, are numerous. Azek brackets flank the front entry; fieldstone veneer dresses up the foundation; the shingle siding flares over the foundation; the third floor balcony's flooring is limestone, repeating the patio feeling from below; a triple layer of shingles delineate each floor, adding detail and breaking up the height of the structure. Interior details include radiant heat throughout all levels; the kitchen's necessary structural column, staircase details and all first floor cabinetry are custom made by our own millwork shop, the River Mill Company, in Red Birch; the master suite includes a dressing area complete with extensive closets, bureaus and shelving all custom crafted in Bird's Eye Maple; the laundry room is conveniently located on the second floor.