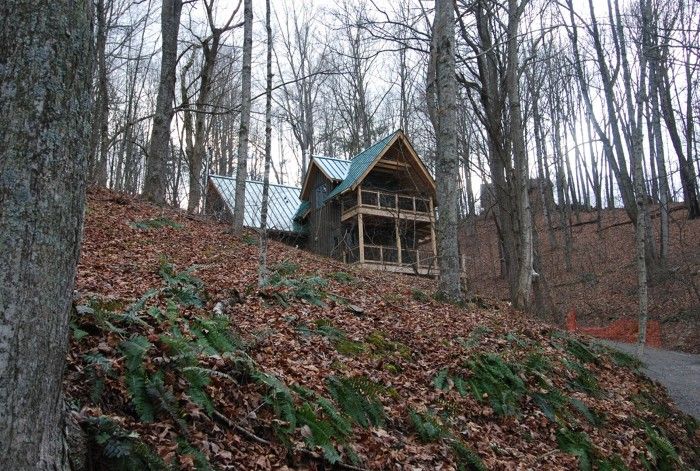 The owners first came seeking an addition to their well-loved but drafty home that had been overdue for an overhaul. After carefully assessing their needs, budget, and possible alternatives, we all decided to demolish the original home and rebuild a small, energy-efficient, and tasteful home on the site.
One of the challenges was to build in an existing footprint without disturbing the surrounding area. The narrow driveway and minimal area for staging were to be left as is, causing others to turn away from this projet. Through the commitment of the client, local resources were used wherever possible, including materials and labor like hemlock siding, concrete countertops, and pine beams. The home suits the woodland site with exposed beams and partially turned balusters made from multiple tree species, some harvested on site. A ducted mini-split heating system, careful air sealing, and thorough insulation systems make the home cozy, and  details like a site-built custom fold-out pantry, drawers built into the eaves, a refinished clawfoot tub, a solatube in the shower, and LED lighting add function and efficiency.
We really enjoyed the opportunity to design and build a nice looking, energy-efficient, small house with creative details.
The clients chose to live in a camper on this old home site between demolition and rebuilding. A new but rustic home now graces the wooded hillside.  
A curved handrail graces the creatively crafted balusters and the wall of windows keeps this forest-shaded home bright.
The coverd porch off the master bedroom provides night breezes and tree frog lullabyes.
Cozy living area with natural daylighting; woods inside and out!
Colorful tones in the tile backsplash and concrete countertop brighten the woodsy feel of exposed beams, wood floor and cabinets.