Galley Kitchen Transformation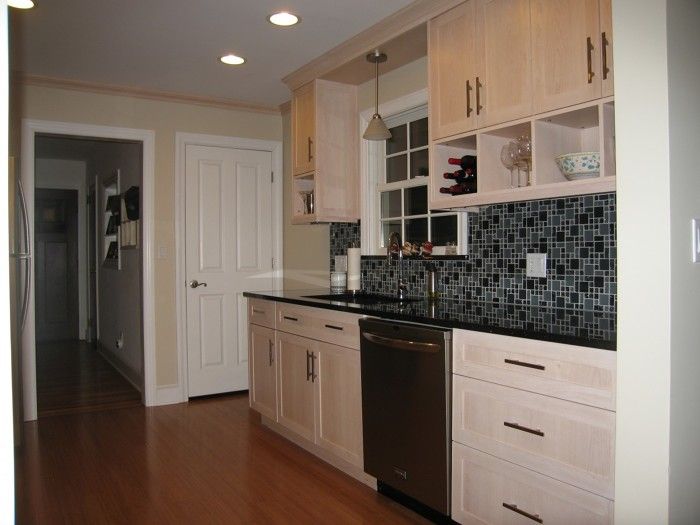 When I bought this small ranch house for my daughter and I there were areas I knew I would have to eventually address – first and foremost was the kitchen, a galley-style "eat-in" that was original to the house (1952). The space was small (10 ft. x 12 ft. exactly), and the eat-in feature was accomplished by eliminating most cabinetry on one side of the room to allow for a table to be placed against that wall. With doorways at both ends connecting the living room and dining areas (the dining area being an addition added in about 1960), the space was challenging to use as a kitchen. After examining various concepts to expand the footprint, including taking space from the dining room, it became apparent that the best solution was to maximize the existing space. As can be seen in photos the existing plan was extremely short on counter space and storage, and had old mis-matched appliances. The cabinetry was site-built pine veneer plywood and the sparse counter areas were 1950's era Formica. The major challenge was to create a space that had all of the amenities of a modern kitchen with storage, counter space, modern appliances, and a workable footprint.
 The renovation included gutting the space down to the studs and sub-floor, adding all new electrical and plumbing, and rebuilding from the ground up. The cheap vinyl flooring was preplaced with solid bamboo; the solid maple cabinets were custom made to fit the space and finished with a white stain to keep them as light as possible without covering the wood grain.  Custom made solid granite counter tops and a modern deep double bowl sink add to the workability of the space. The range was moved to the other side of the room and a modern pot-filler faucet added. Custom glass tile backsplash, stainless-steel appliances, and under-cabinet lighting complete the transformation.
 The final result is modern space that even several people can work in at once without getting in one another's way – a huge upgrade form a space that was almost impossible for one person to use.