Reader Project
Michigan Fieldstone Fireplace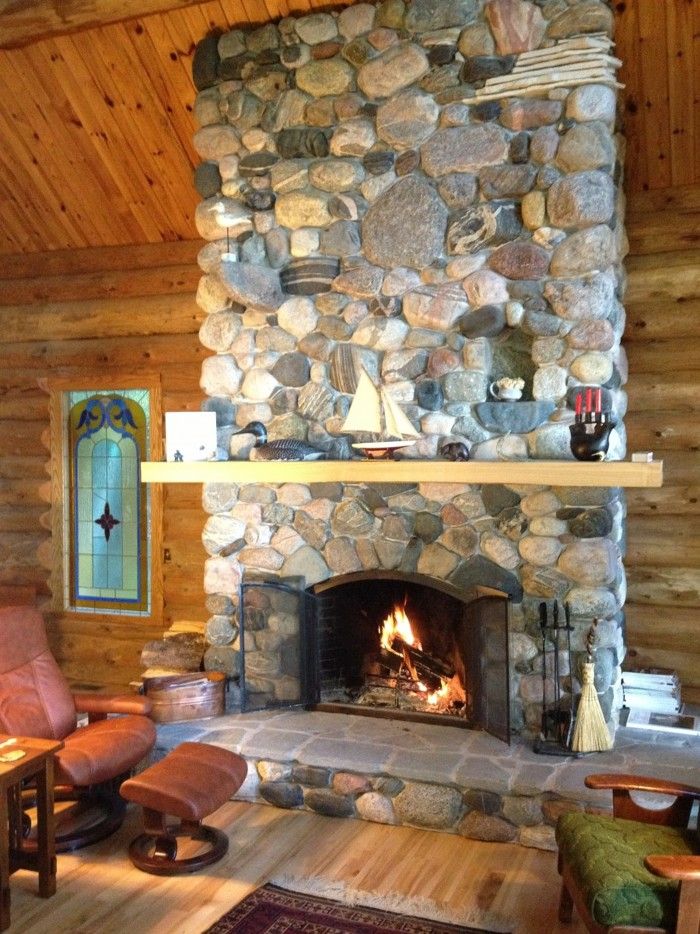 Our Scandinavian Scribe log cabin sits on the shore of Lake Huron's Prentiss Bay near Cedarville Michigan. We are located at the far eastern edge of the beautiful Les Cheneaux Islands which stretch 20 some miles from the Mackinac Bridge toward Detour Passage.
We created the overall fireplace design ourselves. The fireplace was built in 2001 by local craftsman and mason Robert Bickham. The firebox is a modified Rumford concept with outside air venting, designed and hand crafted by Mr. Bickham.  The fireplace draws wonderfully and throws out a lot of heat.  
The fieldstone was collected locally over a number of years, with the help of family and friends.  We often made the search for stones at local gravel pits a group event. A number of large stones also came from the shore in front of our cabin.
The bird statue sits atop a projecting stone with a flat top.  The niche at the lower right helps to balance the projecting rock and the stratified white rocks at the upper right. This feature was designed by my wife Jan to symbolize the "Spirit Line" incorporated into rug weavings in the Navajo culture. The raised hearth is topped with Bluestone.