Hilltop home in Fredericksburg Texas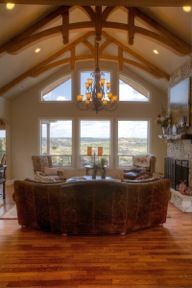 This custom home was built for my clients who are retiring from the hustle and bustle of Houston, Texas to the small town of Fredericksburg, Texas. The home plan is adapted from a popular internet design by Garrell Associates. My clients came to me with a picture from the internet site and requested that the front of the house look "exactly like the photo", but they wanted to modify several aspects of the floor plan to fit their lifestyle. The site they chose has 270 degrees of views from the hilltop that we had to figure out how to fully utilize. We accomplished this by designing the floor plan to curve slightly around the site and by adding as many oversized fixed pane windows across the back of the house in all room (including the master shower). We constructed the entire house utilizing engineered wall panels and trusses with 2×6 exterior walls and smart corner and tees.
Living room with view out the rear of the house.  Note the exposed hand built trusses.
Front elevation of house to match internet photo by client
View of rear of house from helicopter showing all windows across rear.
Master bathroom with blue-tinted barrel wood ceiling.
Front Entry with 11' tall 2 1/4" rod iron front door.