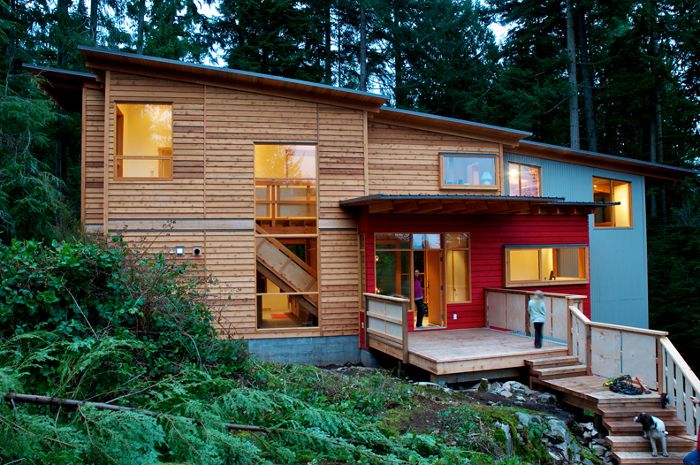 Built on a rock outcropping next to a small stream and several trout ponds this house finds a slice of light within a forest setting. A low pitch roof follows the grade of the bedrock, while a simple rectangular floor plan is articulated with various bays, canopies and decks. The clients, just back from 6 years overseas in Africa desired a three bedroom plus guest room home on Bowen to raise their two young children. Floor to ceiling windows bring the outdoors inside and tow 8′ by 6′ slider doors open the dining area up to the stream.
Challenge: Preserve the natural setting of the site.
Solution: Site the home north south and locate it on a small bedrock ridge devoid of trees. We let it be a window into the forest. We also untilled an environmental consultant to assist us in the development permit process due to the sensitive ecology of the site.
Challenge: Fill a forest house with natural daylight – a request by the client.
Solution: Floor to ceiling wood windows at the south east corner of the house.
Challenge: Build within a limited budget.
Solution: Design the floor plan with a simple box and roof shape. Let the detail fall out of a series of bay windows and creative exposed framing.
Challenge: Create a family haven where the family can interact rather than retreat.
Solution: Make the kids bedrooms really small but join them with a common play space open to the living room below.