Gulf Island Bed and Breakfast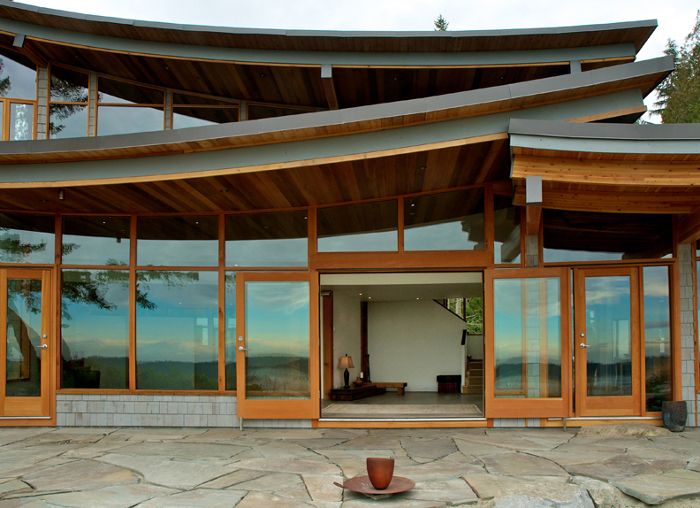 This project is a 2,400sf home and bed and breakfast now under construction on Bowen Island, which is a Island Municipality located in the northern gulf Islands (20 minutes by ferry to West Vancouver). Bowen is a rural yet vibrant community. Approximately half the Island's population commutes to Vancouver while the other half makes their living on Bowen. The Island like many rural "edge" communities has succumbed to the pressures of suburban sprawl. While not solving all the issues associated with development in an edge community, this project investigates the paradigm of rural sustainable development.
Challenge: Design a water smart project where all the potable water is derived from rain water harvesting, allowing the well to be dedicated to a "water smart" garden.
Solution: Tilt the roofs upwards to the sky mimicking nature and collecting the rain water in underground cisterns.
Challenge: Give the client a wall of glass while ensuring the home is built to a Built Green gold standard a requirement set out by the developers of this new community.
Solution: Offset the energy consuming glass walls by specifying all other walls as 2×10 construction.
Challenge: Design a home almost entirely devoid of right angles in plan and in section – a request of the client, while working within a tight budget of $375/sf.
Solution: Specify curved glulams. All the tricky work was done in the factory, and give the builder really good 3d models of the framing. The house met the budget!
Challenge: Discover and exploit the genus loci of the site.
Solution: The main entry is framed by freestanding interior walls which frame an iconic old growth leaning Fir tree located downhill from the site.
The front curved wall and stone terrace
Arrival hall framing the iconic fir tree.
View from the living room