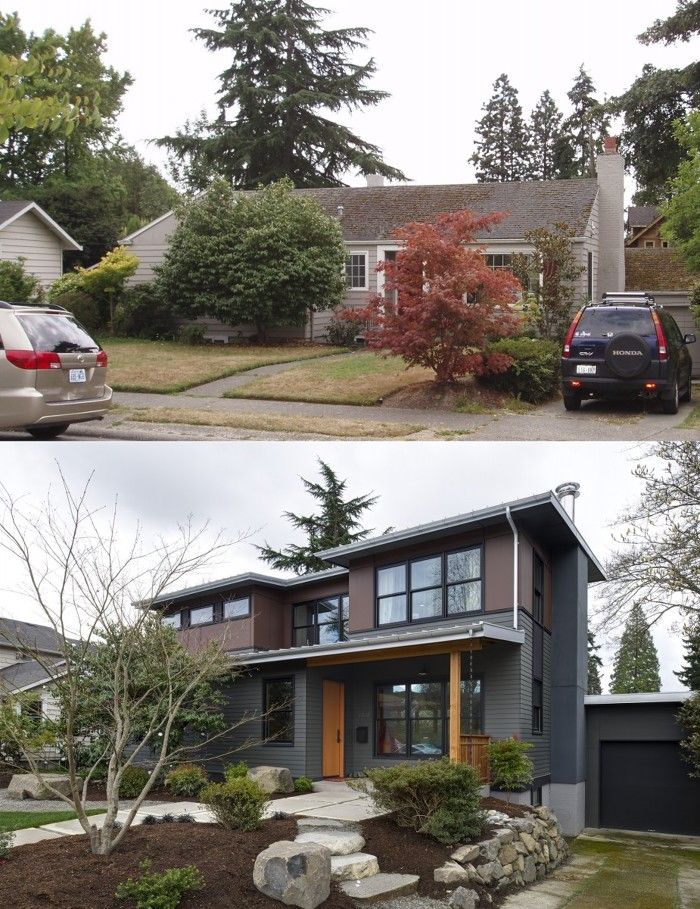 Awkward circulation and a heavily divided plan, as well as a simple lack of space for a growing family, led to a complete renovation and second floor addition for this 1947-built home. The renovation simplifies and streamlines the first floor, routing circulation past living space rather than through it, while opening up views through the house. The dining room is a double-height space with an adjacent floating stairway that creates a visual center for the home, tying together the first and second floors and bringing much-needed light into the house. Open to and centered around this space, the new second floor provides additional bedrooms for the family as well as a study area.
A contemporary interior balances a combination of Japanese-inspired detailing with modern ideas about living and space. A covered deck outside the kitchen and dining room provides a strong connection to the private backyard and facilitates indoor/outdoor living in a rainy climate.
The house was overdue for a systems update, which was carried out with efficiency in mind. Strategic daylighting, efficient windows and plumbing fixtures, low-VOC finishes, and radiant heating represent some of the modern strategies used for sustainable, trouble-free and affordable operation.
Front of house, before and after.
Rear of house, before and after.
Double-height dining room
View from dining room looking toward mudroom.