Southwest, Owner Designed, Owner Built–8 Year Project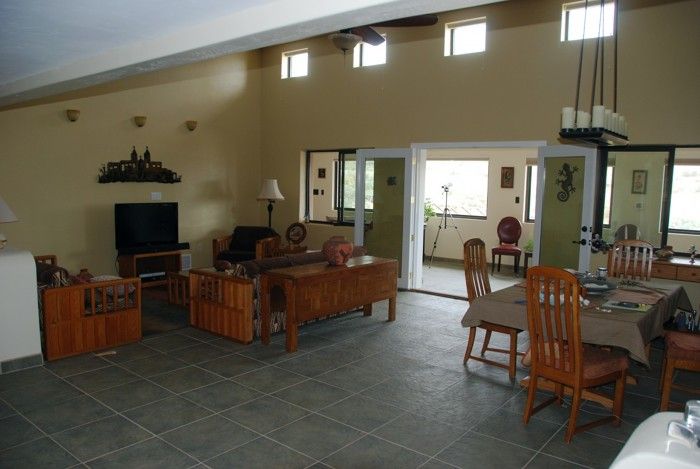 Working on weekends with a few "helpers" requires a long time to build energy efficient, robust home. Two years were required for the design phase using Chief Architect and the construction required eight years from initial construction permit to final occupancy approval.
The overall look is an updated version of the southwest Indian Pueblo house.
The home is about 4300 sq. ft. (how do you count 14″ thick walls?), has 3 bedrooms, 3 baths, two utility rooms (one with laundry equipment), a sun porch, an AV room/office, and a great room/dining room and kitchen.
Building with insulated concrete forms (RASTRA/PERFORMWALL) and airtight framing required attention to detail by all trades. Basic construction, plumbing, electrical and HVAC systems were designed by owner and all of the construction and systems except HVAC and gas piping were accomplished by the owner using State of New Mexico Home Owner permits.  High levels of insulation, low e-argon windows, double core cellular shades and airtight construction required only a 2-ton air conditioner system for 3100 sq. ft. of conditioned space with a design temperature was 105° F.  Radiant floor heating (8 zones) plus a hydronic coil in air handler allow most of the space heat and potable hot water to be provided by a solar hot water system (160 sq. ft. of collectors, 300 gallons of storage). An 8 kW owner designed and installed photovoltaic power system with full house battery backup will push the home into a net zero energy house rating or lower.
Basic structural design and construction was to Florida hurricane and California earthquake standards; none of which we have in New Mexico, but the weather is changing.
The 1300 sq. ft. attached 2-car garage contains an exercise area and a shop for future projects.  An outside 200 sq. ft. storage building holds tools and building materials.
Occupancy sensors in the bathrooms and kitchen control temperature-limited hot water recirculating pumps, ventilation fans and lighting (when needed).
The master bath has an IR sauna, a soaking tub and a walk-in shower.
An interior fire sprinkler system, lot perimeter wildfire suppression sprinkler system, fireproof outer walls (UL classified 4 hour fire rating), metal roof and 5/8″ fire code drywall throughout keep insurance premiums very low.
A reduction/oxidation/carbon (KDF) whole house water filter removes chlorine from the potable water and an ion exchange water softener deals with the very had community water.
All doors are solid core (Masonite Safe and Sound), 36 inches wide and many are pocket doors.
Kitchen and laundry room cabinets are from IKEA and were easy to assemble and install as well as having a 25-year warranty.
 A PV powered, vented composting toilet was installed in an outhouse and used for the entire construction period.
A dedicated, somewhat sound proofed, home theater room has a 7.2 surround sound system with 2000 watts of audio power and a 106″ diagonal projection screen.  It seats 5-8 people.
Subcontractors were used for:
Leveling the site, placing and finishing the slab and sidewalk, installing the standing seam metal roof, stucco, septic tank and leech system, 2000-gallon rainwater cistern, gas piping, and the HVAC installation.  The owner/builder and a varying crew of 1-3 people accomplished all other activities.
The Owner Builder is an electrical engineer who was 70 in February 2013.
Brand name materials used:  Huber AdvanTech 5/8″ sheathing and roof decking, Simpson anchors, GRK fasteners, Pella windows, Masonite doors, Anderson/Emco storm doors, American Olean tile, Delta and American Standard plumbing fixtures, Lennox air conditioning, Westinghouse Solar AC PV modules, Sharp PV modules, SMA PV inverter, Toto toilets LG gas range and refrigerator, Bosch dishwasher and Bostich HurriQuake nails for all sheathing and roof decking.
Winter at 5450 feet-Warm inside with radiant floor heating
Kitchen-Lots of LED Lighting
Master Bath-Walk in shower and soaking tub