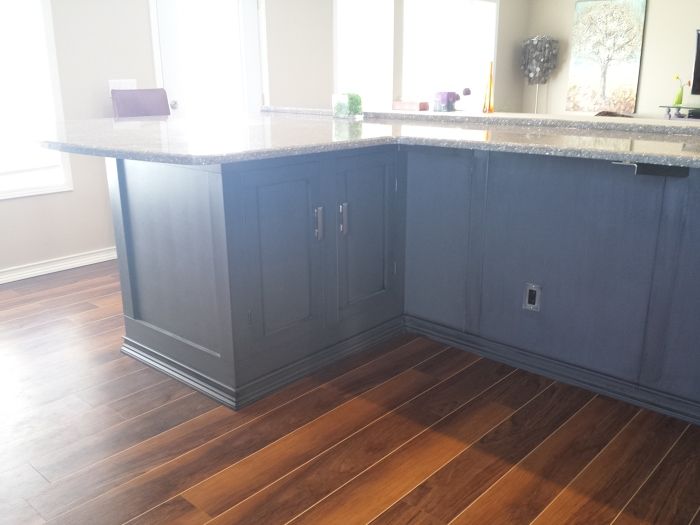 This kitchen was designed with waisted space causing clutter spots in it and an adjoining room. We removed the walls seperating the two rooms and expanded the kitchen into the garage where there was more waisted space. The removed walls were sructeral but putting in a visible header would have obsrtucted the view of the space we just opened so the header was installed in the attic above the ceiling joists supporting the load but not visible in the room. New Karndean vinyl plank flooring was installed through out the entire first floor to tie the newly opened space together with the rest of the living area. Adding a design strip between each plank and a running border around the perimiter of the home gives it a nice custom touch.
The floor wasn't the only custom piece in the remodel we were also able to tie in the elephant in the room, a stair case that devided the kitchen and living room. With some custom built cabinets we were able to turn it into the centerpiece of the house where the whole family can come together. There were lots of other custom features includeing midifying the existing kitchen island for added storage and a custom dog crate that doubles as the support for a corner desk. Uniformly spaced recessed LED lighting was installed to fallow the contour of the countertop bringing out the sparkle of the beautiful Cambria quaurtz tops. While we were installing the recessed LED lighting we also gave the existing recessed lighting a face lift by installing LED retrofit kits into the existing housings alowing them to match the new lighting and save the customer money on there electric bill.
This picture shows the stair case wall with the recessed support brackets, all finished with paint and glaze detail to blend in.
This is the custom base cabinet built to support the larg table top. I has double doors on both sides with one shelf evenly spaced for storing those larger items you don't need to access all the time.
This was the old kitchen island. I raised it to the hight to match the new counter hight, cut off the toe kick and added a full length droor for the bigger cookie sheets and pans. The trim that runs the bottom of the cabinet runs thru out the whole first floor.
This shows the floor patern following the shape of the hallway instead of just running with the rest of the floor.
This showes the custom crate for the family pet Ralphie wich also doubles as the support for the added desk space. Th customer wanted to use stainles steel stats to keep Raph from chewing his way out and to match the hardware and apliances in the kitchen.