21st Century Kitchen Blended into 19th Century Home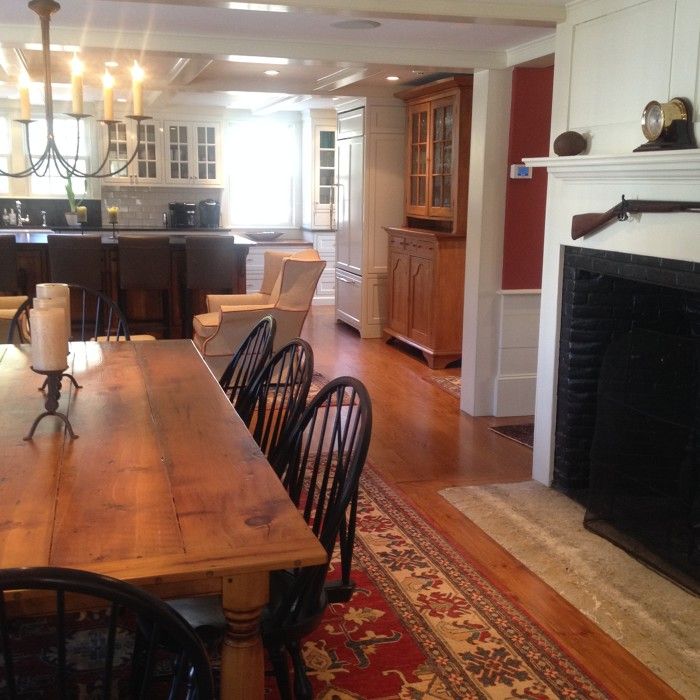 Our clients have lived in their 1812 saltbox for over 20 years. They yearned for a new kitchen with more open entertainment space and a graceful connection to an adjacent dining area with large fireplace. However, they were extremely concerned about blending this new room into the historic house; the new kitchen needed to provide them with all the modern conveniences they wanted and yet match the beautiful historic details of the home. We made use of reclaimed chestnut for the pantry and island, wide pine to match existing floors, along with matching all the woodwork, doors, and door hardware with the rest of the house. We also worked hard to maintain the scale and feel of the rest of the house; the clients did not want the "new room" feeling you get when you walk into a new space that is out of scale or style with the rest of a house. 
A view from the dining area with the large antique fireplace into the new kitchen. The dining table was made from antique floor boards we had to remove from the dining room area during construction. 
A view of the new kitchen. We intentionally put in a window below the counter height to break up that plane. The window matches others throughout the house and adds an antique element to the new kitchen. The countertop is antiqued granite (Jet Mist) but the countertop below that lower window is reclaimed chestnut, which was also used for the pantry and island. 
A view of the kitchen island with the new kitchen beyond. The island is made of reclaimed chestnut. The clients wanted the island to resemble a piece of furniture rather than a kitchen cabinet, to blend with the antique furniture they have in the space. The island side one sees upon entering the kitchen was designed to look like a dresser. The wide pine floors, which match the rest of the house, are also visible in this picture.
One innovation we incorporated into the space is a "tech drawer". The clients wanted a charging station out of sight but easy to access. This shallow drawer within a drawer is outfitted with 6 USB plugs at the rear. Cords, phones, ipads, cameras, etc. are all kept safe and out of sight. The drawer within a drawer adds security as well as maintaining proper drawer scale from the outside and doesn't sacrifice more space than the electronics need (dishes are stored just below the tech drawer). 
Aside from the Wolf range, all appliances are panelled, or hidden, like this GE Advantium oven, which is tucked into the backside of the island. This way, the clients' antiques, such as the cupboard in the background, and the island (reclaimed chestnut) and floor (reclaimed and new wide pine) could be featured without distraction.