A very special cabin in the woods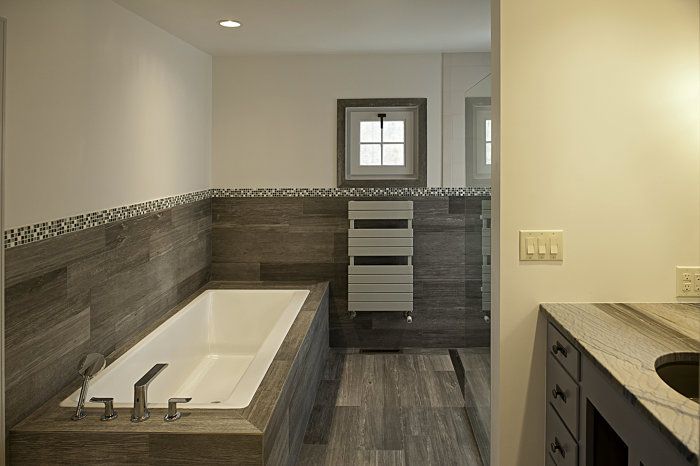 In the late 1980's my clients bought an original 1927 hunting cabin and surrounding woods. By that time the hunting cabin had gained a couple of additions and a kitchen in the 1950's. As the years passed my clients grew to love the woods and cabin with all of its quirks. They assembled a scrapbook of ideas and even purchased some items that they wanted to incorporate in the home when it grew up. After almost thirty years and numerous iterations, they hired Charles Dickey, a local architect to put their ideas on paper with a conceptual drawing. Then they enlisted Terry Herndon of UpStream Construction to make their dream a reality.
    The goals of the addition and remodel were to integrate modern conveniences and energy efficiency with the existing character of the cabin, and to allow our clients to age in place. The addition has a continuous thermal envelope and is totally conditioned for energy efficiency. The master suite bathroom is designed for potential wheelchair access. The 36 inch custom tongue and groove pocket doors slide out of the path of travel. An open floor plan provides adequate turning radius and the linear floor drain in the shower provides a curbless roll in shower. The walls and floor are a wood grain tile, providing a durable surface and the wood grain is harmonious with the wood setting. The shower is open with the exception of a small glass divider acting as a splash guard for the rainfall shower head. Natural light filters into the shower through glass block.
The bathroom has mechanical ventilation from an ERV (energy recovery ventilator). One Marvin hopper window allows fresh air and light. While the house is supplied by heat and air from a heat pump, a separate boiler system allows us to use two hot water radiators which double as towel warmers.
Other features include a deck mounted tub which beckons you to take a soaking bath. The water closet is separated in its own space by another pocket door.