A house in Marin for a family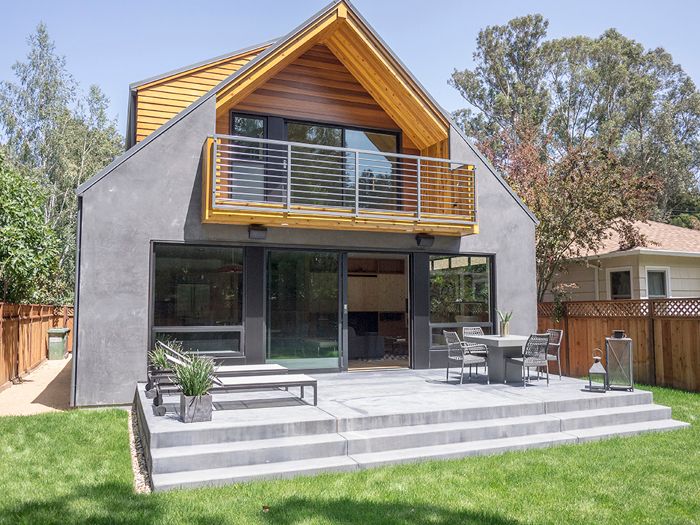 The owners only request was very simple: a modern single open kitchen living and dining area that would open onto the back yard, and to have three bedrooms. The challenge was to fit this square footage in the small footprint of the lot. The town's design guidelines advocated for well proportioned houses that would not look bulky on their lots or block views of the neighbors. The only way to make the program work was to design a two story house, and once we knew we had 2 stories, we knew we had to be careful about perceived bulkiness and how tall the house could be. The second story would have to be smaller, and our concept was to fit the entire second floor under a single gable roof set back from the street. There are also discreet dormers that sit above the roof eaves but they are even further back. A gable roof slopes away from the neighbors and minimizes shadows cast by the structure. We wanted a modern concept to read through the very traditional form we used. Thus the materials and detailing would be streamlined, clean and have minimal flourish. The house is a clean form with quality materials. We chose standing seam metal to use as roofing. The upper level exterior walls are clad with sustainably harvested solid wood lap siding with semi-solid stain and have a lighter weight appearance. The ground floor walls are clad with painted smooth texture stucco and are the heavier base to the from. The front door is solid wood and all windows have dark painted aluminum frames and sashes. Architectural metals, gutters, downspouts and flashings are painted to match adjacent walls. We chose charcoal grays presenting an organized package.
The rear of the house is all about connection with the sunny back yard. The big sliding doors open on to a terrace a floor level, the balcony above is the master suite where further backyard interaction can occur.
The rear space is all open, kitchen dining and living room face the sunny back yard
We protected the privacy of the neighbors with high and low windows that let in light but don't allow a view into the other house. The skylight and these windows not only light up the stair well but also shed light into the open space downstairs. Plate steel with our favorite shape lozenge cut outs serves as the upstairs guardrail.
View towards the kitchen from the living area. Warm woods were used along with simple clean lines. We were aiming to have a simple modern cottage. The high clerestory windows above the cabinets let in light but keep the space private from the close neighbors.
The front facade: the second floor is set back to reduce looming over the street and appearing too big, there is also an articulated lower floor with bay window, not so big garage and a recessed welcoming entry.