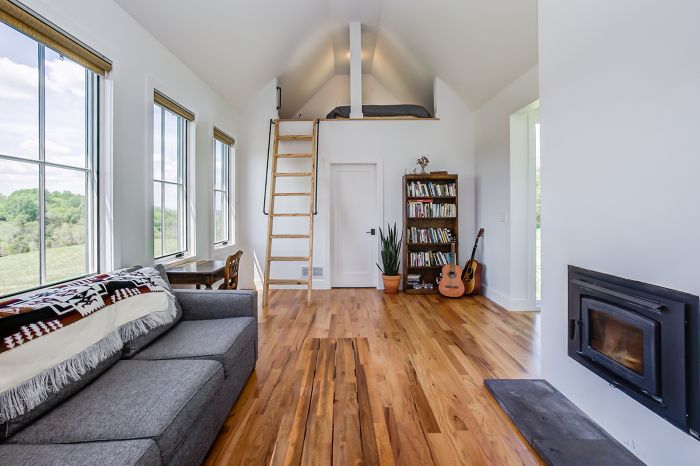 Friendship and idealism birthed Cabin Point. It began in 2013 when four best friends bought 33 acres in Rapidan, Virginia, about ninety minutes from Washington DC. Consisting of little more than an aging 1850s cabin and beautiful views, the land represented unlimited potential—a blank slate for the creative vision of visiting artists who continue to build on the land. The clients shared a vision for a more ecological, communal and artistic future. Our goal was to create a home that was aesthetically striking, fusing contemporary needs while still respecting the local Virginia vernacular.
Surrounded by pasture, forest and mountain, it had to meld the indoor and the outdoors. They needed a home that could accommodate growing families and large gatherings, but it also needed to feel cozy and intimate enough for a solitary writer's retreat or a couples weekend getaway. On top of this, the clients wanted to be on the forefront of sustainable design in terms of energy use and materials science—and all this on a modest budget. After dozens of design iterations, the Silo House was completed in the summer of 2017. Set at the apex of a 33 acre property, the Silo House is actually three buildings (the Main House, the Tower, the Silo) linked by upper and lower decks with beautiful Blue Ridge views. The Silo building is a grain silo that we turned into a two and a half story light-filled building complete with maple flooring, modern climate control and a self contained bathroom and kitchenette.
The state-of-the-art, open kitchen features a picture window overlooking the pasture and rolling hills. There are five queen beds placed across three independent bedrooms and two lofted bedrooms. Each sleeping space has a unique feel, as well as mountain, trees, and pasture views. There is one full bathroom, one bathroom with a ship-shower, and one half bathroom in the Silo, as well as an outdoor shower. The Great Room upstairs in the Main House has a fireplace, telescope, and record player, and it is decorated with antique maps, local art, and lots of books—a wonderful gathering place and respite in the cold winter months.
Cabin Point has hosted artists, community events, fundraisers, weddings, and retreats. It is a place for projects and passions that require hands in the dirt: patiently building gardens, orchards, walking trails, an art studio, and meandering stone walls. It is for hosting old friends and creating new communities, experimenting in the kitchen and the brewery. Cabin Point serves as a physical reminder of collective creativity, and a recognition of the value of nature in our everyday lives—one that will strengthen existing relationships, create new ones, and further expand our community in the years to come.