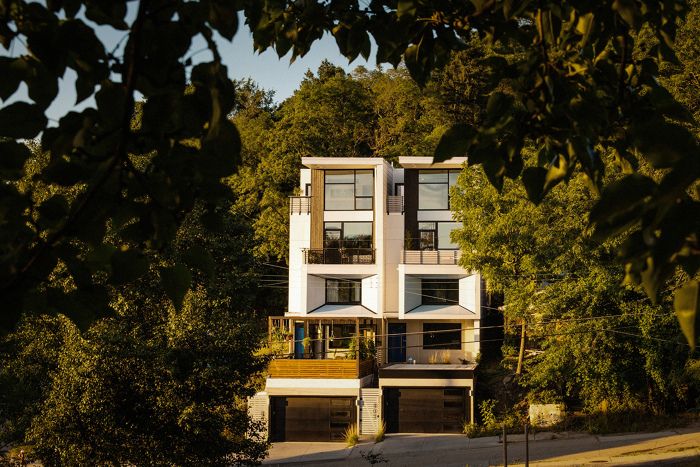 With every great challenge comes tremendous opportunity, and in the case of Oasis on 54th there was no shortage of either. Challenges ranged from site topography (25% grade), complex engineering, complicated construction detailing, and major constructability challenges arising from the building height and complex geometric form. From the onset of the project, we had a long list of priorities, and as the general contractor, lead designer, and building owner, I felt an obligation to our team and to my partner Sarah to deliver on each and every one. First and foremost we set out to maximize views and flood the space with natural lights. By creating a large south west facing window wall, we were able to direct light throughout all four floors in the house and offer views of the city and allegheny river valley. In combination with interior transom windows and an open stair design, light from the main living space dances beautifully throughout the house. Another primary goal of the project was to create a connection to the outdoors on each and every level. To achieve this, we played with the geometry, elevation, and size of each component of the home to create a series of intimate and private outdoor spaces.
Designed to function as our primary residence, model home, and a short term rental unit, it was important to create separation between the master suite and the guest floor. Early on, we decided to elevatie the main living space to the third floor, which in addition to providing physical separation from the guest quarters, helped achieve other primary goals of the project. Our final priority was to adhere to a set of principles developed to steer the decisions making throughout the project, which included developing a design that is innovative, contemporary, and beautiful, while showcasing leadership in environmental sustainability, and social responsibility. From the detached garage with rooftop garden, to the double height living area with modern geometric rails and skylights, we successfully developed multi-functional areas that optimize spatial efficiency and provide a rich experience in contemporary architecture. Sustainability and social responsibility were at the very core of this project. Examples include utilizing reclaimed woods on the interior and exterior of the home, selecting non toxic and locally sourced materials, working with a network of local artists, makers, and designers, and driving down energy use through passive house principles and building science.
Exterior front view. Clad with Shogi Shou ban, Reclaimed barn wood, concrete panels, and metal trim. Featuring a garage at street level with roof garden above, enclosed sunroom, laser cut geometric rails, as well as the main double height space providing perspective to the complexity of the building form
Floating delicately above the roof structure this urban rooftop garden features large planters and rails made of natural woods. The south facing deck provides a large open space for community gatherings while providing a source of food for the occupants.
View of great room with exposed beams providing depth and warmth, expansive chef's kitchen for entertaining and cozy dining room at the rear. Flooded with natural light and a variety of tropical and local plants.
A mix of old materials and techniques with a modern twist. Suspended stair treads made from reclaimed oak delicately float from a series of cables while being grounded by two structural columns on either end. Custom wood skylight screen by our friends at Naked Geometry.
View from the kitchen into the living space. Featuring soaring 20' window walls bringing in heat and light throughout the home.