Sponsored Post
Tools & Materials
Windows and Doors for Light, Airflow and Views
In this video, principal designer Kate Smith discusses her decisions behind incorporating Marvin windows and doors in her family's home.
Sponsored by Marvin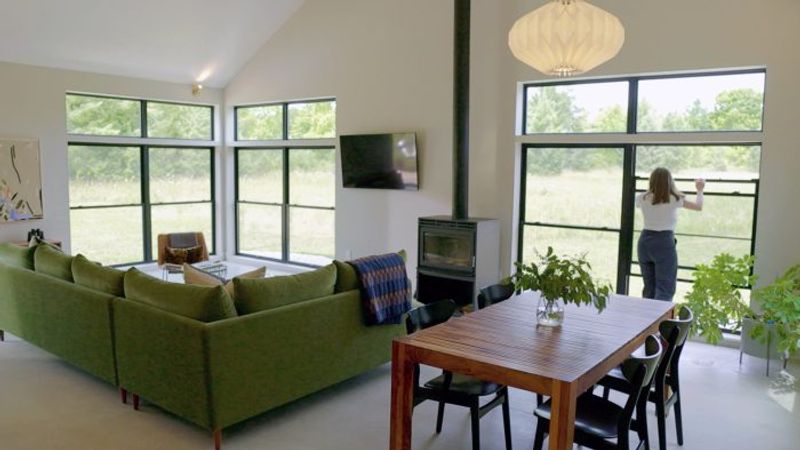 As a building professional, Kate Smith of k.smith|x took a lot of pride and care when designing her own home. Designed in two masses, the house is divided between common and private spaces all tied together with sight lines created by window placement. The overall concept was to take in the beautiful outdoor scenery, flood the home with light, and guide the eye through the space with the use of windows and doors.
In addition to the beauty, availability, and durability of the Marvin Essential™ double-hung windows and Elevate® sliding doors chosen for this project, functionality was a prime concern. In this house, the double-hung windows are designed to create enough airflow to negate the need for air-conditioning in the house when open.
Here's the transcript:
We purchased the lot solely based on the fact that it was these five beautiful open acres, and we wanted to really respect the beauty that the land had. So the number-one goal was to make these two gigantic structures blend in.
My name is Kate Smith. I am the principal designer and founder of k.smith | x, and we are a collaborative design firm focusing in construction, consulting, and interior finishings.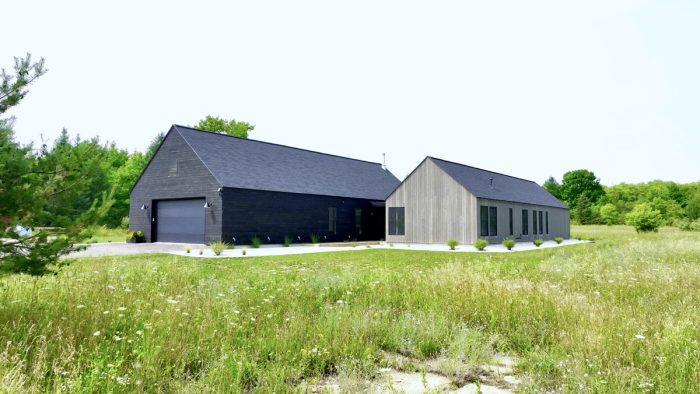 Today we are actually at my house, which is the smart house located in beautiful Door County, Wisconsin. The house is actually designed in a dog-trot style, where it's two buildings offset to force air to flow through. We knew we wanted the space to be grounded and visually quiet, and we knew we could accomplish that through the windows that we installed and by doing it in a really mindful way where we could break through those boundaries.
All of the windows used throughout the entire house are within the Marvin Essential line, and they are all double-hung ebony. We really wanted to keep our private space and our living space separate. So when we were making the window selections, we knew we wanted to have maximum light, maximum visibility of this space. We wanted a window that was classic, that was easy to operate, but that was also going to serve us in the space.
We opted to not condition the space, so the double-hung window was the absolute priority because of its passive cooling opportunities. When you're using the window correctly, you're opening the bottom and the top pane, and so the hot air is escaping the top while the cool air is being pushed in through the bottom, and it actually creates a cycle through the whole house.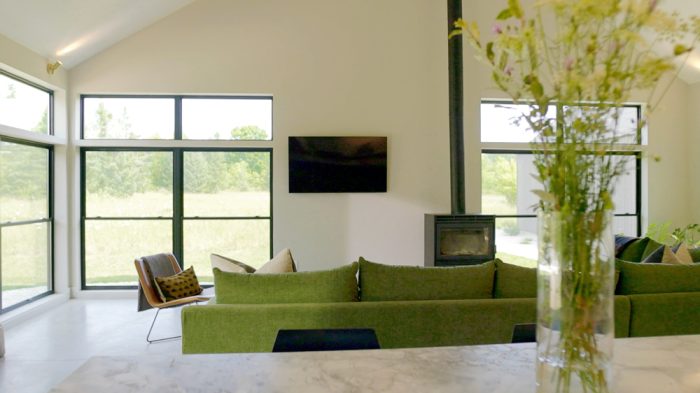 Durability was also a huge factor in our selection of the windows. Based on our choices of how to mount the windows, we needed something that wasn't just going to be able to absorb the wind, but also absorb pressure against it. Sight lines were also so important, partially because of the cooling and to keep that flow of air going, but also just to continue that boundary-less feel. No matter where you're at in the house, you can see outside or through from one building to the other.
We opted to go with the Marvin Elevate line for our slider. It is an 8-by-8 door in an ebony finish, but this is in the wood finish as opposed to the fiberglass, which is the Essential. We come in and out of that door; it's great access to the kitchen. We wanted something that was going to be as minimal maintenance as possible where we didn't have to worry about how these very direct elements were going to impact it.
We love to work with all of our construction partners when it comes to our design choices to make sure that we're not only selecting beautiful objects, but that they're also going to function well within the space. This is our forever home. It has been such a change for everyone to be out of a cramped space, so the choices we were making were really impactful. This is where we're going to be for a long time, so let's make smart decisions because this is it.
---
RELATED STORIES