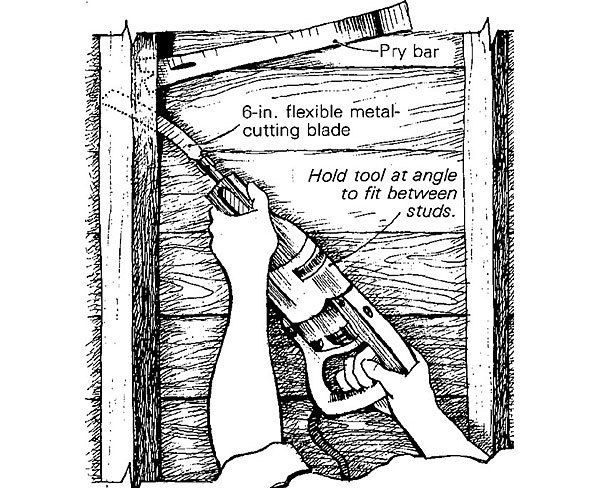 I recently expanded a portion of my house and needed to remove an existing exterior wall. I wanted to match the original siding, so I searched local lumber yards for the same pattern. I eventually found the proper sheathing and was staggered by the price. I realized I was about to remove close to $300 worth of perfectly good original siding from my house. The problem was how to baby it away from the old studs without rendering it useless. I tried prying, with little success; the brittle old boards cracked and splintered with such regularity that it became obvious another method was essential.
The solution was to cut the nails from the inside with a reciprocal saw mounting a metal-cutting blade. I have Milwaukee Electric Tool Company's Sawzall (www.milwaukeetool.com), but any make will do. Remove the shoe from the tool so you can angle the blade nearly parallel to the siding. I used 6-in, blades, bent slightly to allow for the difficult angle. I found a little wedging with a pry bar made it easier to insert the blade between the siding and the studs. Be careful to keep the shaft of the saw away from the siding or studs. Contact can result in costly damage to the saw's bearings, gears and the shaft itself.
Be sure to wear safety goggles, because the blade will occasionally snap during the work. I must have broken $10 worth, but I sure didn't mind when I had my $300 worth of siding in usable condition. I figure it paid for the Sawzall, as well.
Editor's note: Reciprocal saw manufacturers offer an offset blade adaptor that allows close-quarter sawing without removing the protective shoe.
—Hadley Green, Santa Monica, CA
Edited and illustrated by Charles Miller
From Fine Homebuilding #2