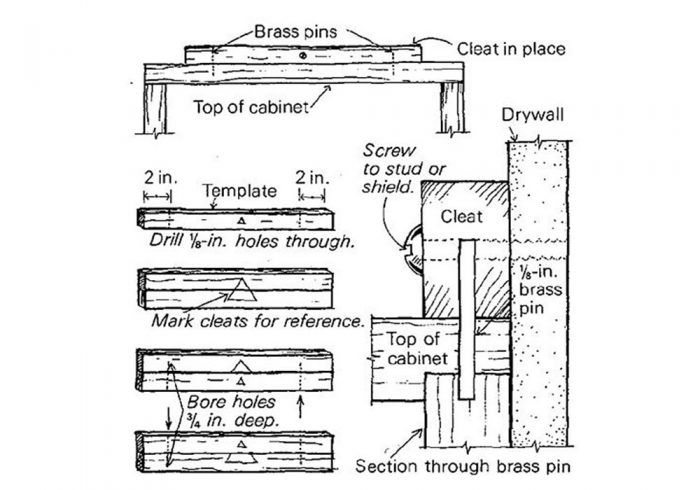 This easy and attractive way to hang cabinets involves a wooden cleat above and below the cabinet against the wall. These cleats are picked to complement the grain of the cabinet and shaped accordingly. They need not be thick or wide. I make three pieces, usually about 1/2 in. to 3/4 in. by 1-1/4 in. and as long as looks good. One piece is the template. Holes 1/8 in. in diameter are drilled through the template about 2 in. in from the ends to accommodate 1/8-in. brass rods.
Next I mark the top and bottom pieces and the template with a triangle for reference, then bore the two cleats about 3/4-in. deep. Next the template is clamped to the cabinet top and bottom and holes bored there. Make sure the template is in the exact position you want your cleats.
At this point cut your pins and try on the cleats. They should fit like a glove. For most of my small cabinets I use one #10 or #12 roundhead brass screw in the center of each cleat. I like this technique for drywall mounting because you can set the cabinet where you like and mark the screw holes. If there is no stud (is there ever?), you can use those little plastic screw shields that work incredibly well and come in all sizes. On large cabinets, more pins and screws will make it easier for you to sleep at night.
These cleats can be clean and straight and functional, or fun and frivolous. They can be shaped and sculpted to look like a natural extension of the cabinet top and bottom or can have other roles such as little shelves. Experiment.
—Alan Miller, Brush, CO
Edited and illustrated by Charles Miller
From Fine Homebuilding #3