Podcast 128: Worst. Photo. Shoot. Ever.
Air-sealing a standalone wet sauna, flashing a roof for a breezeway that has unparallel walls, and how to cover exterior insulation below the framing.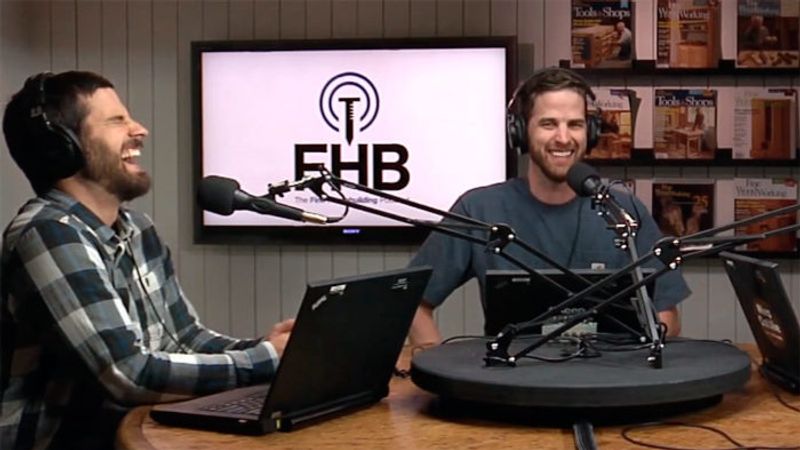 Justin Fink, Rob Yagid, and Brian Pontolilo discuss the "drastic" changes to the cover of Fine Homebuilding magazine, and tease some new future magazine content. Rob follows up on the fit of the face frame for his bathroom vanity (spoiler: he only scraped up the wall a little). See the photo below. Then the guys debate: Should bathroom vanities have a full back?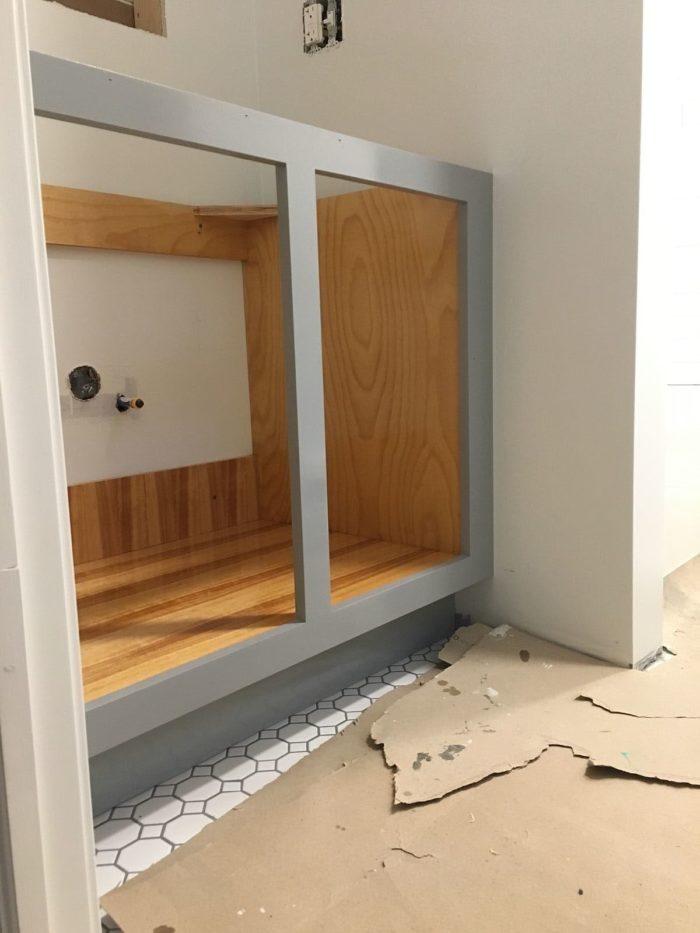 They answer the listener questions below, and tell some "Stories From the Road" about the worst photo shoots they've ever been on. Hint: Brian's is a doozy!
---
Question 1, from Spencer: I'm going to be building a standalone wet sauna this summer and I had a few questions about air-sealing. Most of the details I've seen have to do with interior saunas, which utilize a foil vapor barrier and a fan for moisture. But given that this is detached I was wondering what your thoughts are on a best assembly. It'll be just outside of Toronto, measure 8×8, cedar on the interior and exterior, mineral-wool insulation, and have a metal roof with overhangs. Heat will be either wood or electric.
One idea is to leave it fully open, fit the mineral wool tight and just attach the siding and interior finishes to the studs. This is how I assume most old world saunas were built and still stand.
The other would be air-sealing like an interior sauna, but I'd be worried about condensation on the interior face of the vapor barrier. Would there have to be a drain in the floor for when the moist 115° interior air meets the -15° outside air?
---
Question 2, from N Weaver: How do I cover the exterior insulation below our framing? Our drawing calls for cementitious panel, but I'm not so sure about its long-term durability. As per James Hardie tech support, "nothing we make should be within 6″ in. of grade." My thought goes to stucco, for which RockWool does offer some detail, but for what appears to be for an entire wall covering. I'm just trying to cover 8 in. max. How about we run our 1-1/4-in. RockWool to grade or just below and just some metal lathe held on with TapCons and stainless fender washer? Then just stucco right to it?
---
Question 3—more of a comment—from Ryan: I come to you with this gem of innovation that I found at the local library. It's called Energy Alternatives by Time Life Books and was published in 1982. Hope you guys got a good laugh out of it. Reading that book was yet another reminder of how fast our understanding changes in this field.
---
Question 4, from Thomas: I have a question about flashing. I have a covered breezeway between my house and my garage.  The facing walls of the house and garage are not parallel.  The breezeway roof connects to the sidewalls of both. Since the walls aren't parallel, but the standing seams on the roof are what they are, how do I flash this roof?  If metal flashing, does it need to be the same metal as the standing-seam roof? How should the metal roof be finished beneath the flashing where it intersects the house and garage walls?  How do I direct water away from the sidewalls at the lower end of the breezeway roof?
---
This episode of the podcast is brought to you by Benjamin Obdyke.
Benjamin Obdyke would like to use the special occasion of their 150th anniversary to thank the nuisances that builders and homeowners despise. Their premium products protect from those pesky things like rain, snow, humidity and the neighbor's sprinkler system. Take HydroGap, a drainable housewrap that eliminates moisture from your wall assembly. Or Cedar Breather, an underlayment for wood roofing that allows continuous airflow behind shingles or shakes. One man's headache is another man's successful business. To build better with Benjamin Obdyke, visit benjaminobdyke.com.
We hope you will take advantage of a great offer for our podcast listeners: A special 20% off discounted rate to subscribe to the Fine Homebuilding print magazine. That link goes to finehomebuilding.com/podoffer.
The show is driven by our listeners, so please subscribe and rate us on iTunes or Google Play, and if you have any questions you would like us to dig into for a future show, shoot an email our way: [email protected]. Also, be sure to follow Justin Fink and Fine Homebuilding on Instagram — and "like" the magazine on Facebook. Note that you can watch the show above, or on YouTube at the Fine Homebuilding YouTube Channel.
The Fine Homebuilding Podcast embodies Fine Homebuilding magazine's commitment to the preservation of craftsmanship and the advancement of home performance in residential construction. The show is an informal but vigorous conversation about the techniques and principles that allow listeners to master their design and building challenges.
Links for this episode: