Cutting Curves in Big Beams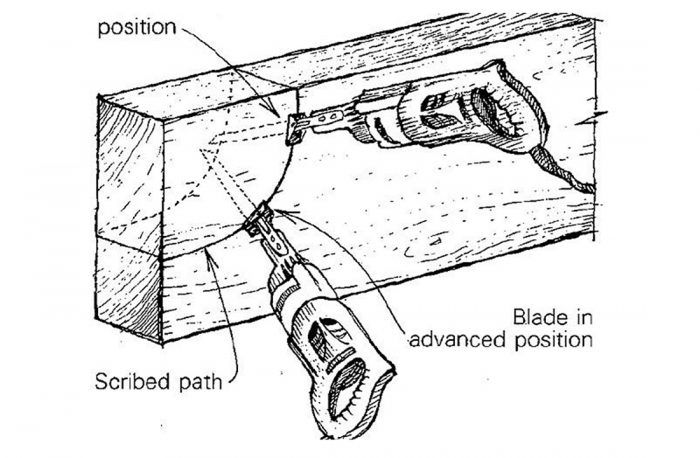 Last year I designed and built a house that uses seven cantilevered 6×20 beams to hold up the second floor. The beams are exposed to view on the outside, so I wanted a decorative cut on each one to dress it up.The simple 12-in. radius arc I chose turned out to be a lot easier to draw than to cut with the tool at hand — a Sawzall with a 9-in. blade.
The basic problem with cutting curves in thick stock with a reciprocating saw is that the free end of the blade tends to drift outward, cutting an arc larger than the one that is being followed. After much trial and error, including guiding the protruding blade with a pair of lineman's pliers, I developed the technique explained below.
Begin by scribing each beam carefully on both sides with the aid of a cardboard template, and then place it upside down on a pair of sawhorses. Once approximately 1/4 in. of the cut has been made, the operator can advance or retard the blade on the scribed path by leading the cut with either the heel or the tip of the blade. This develops a torsion within the blade that affects its course.
Have a helper stand on the opposite side of the beam and describe the path of the blade as the arc is being cut. If the blade moves outside the pencil mark, the operator needs to advance the blade. If the blade starts to move inside the line, the operator can retard it to pull it back on course. With a little practice, this method works very well.
Incidentally, the helper is actually relief personnel, since each cut on my 6×20 beams took nearly 1-1/2 hours to complete.
—Eric K. Rekdahl, Berkeley, CA
Edited and illustrated by Charles Miller
From Fine Homebuilding #14