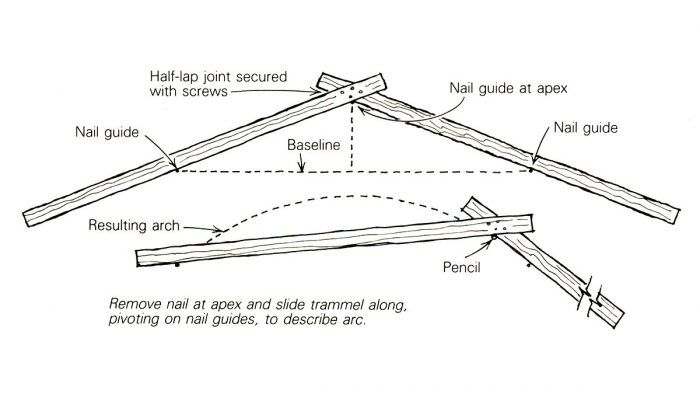 Here is a technique that I have found handy for laying out wide, shallow arches. I discovered it at a shipyard, where boatbuilders use it for laying out the rounded camber of boat decks.
On a clear, flat, wood surface, such as a subfloor, draw a straight line as long as the arch will be wide, as shown in the drawing. Drive a finish nail at each end of this baseline, so that about 1 in. of the nail's shank projects above the floor. Find the center of the baseline, and draw a perpendicular line extending up from the center, making an inverted T. Decide the height of your arch, measure along the perpendicular line from the baseline, and drive a third finish nail at the apex.
Now find two straight 1x boards, each one a little longer than the length of the baseline. Snug one board against one base nail and the apex nail, and lay the other board against the other base nail and the apex nail. Where the boards overlap, mark them for a half-lap joint. Then cut the joint and screw the boards together.
Pull out the apex nail, and hold a pencil in its place. Now slide the boards along the baseline nail guides from right to left to mark the arch. As a variation, you can mount a router at the apex and cut or mold arches of any size.
Jerry Azevedo, Corvallis, OR