Podcast Episode 86 — "Build On, Baby!"
Bed molding versus crown molding, busted gate valves, cornices, ceiling paint, and when to jump into a project when your skills are not quite up to par.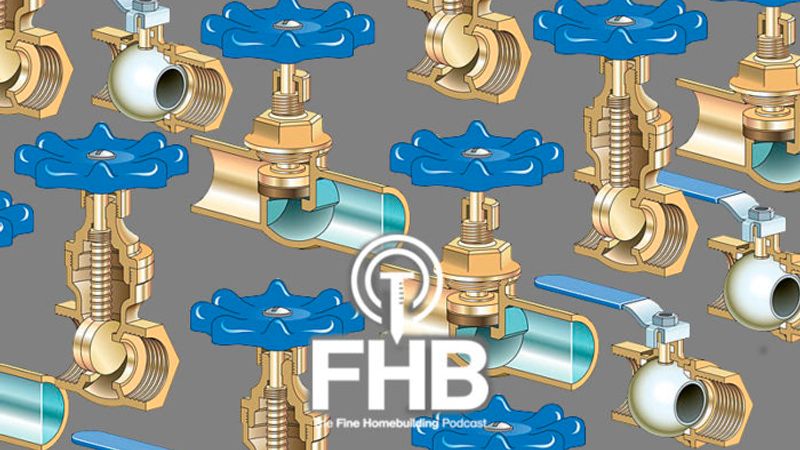 In this episode, Matt, Brian, and Rob give Justin a break as he works on the mantel article mentioned last episode. You came for the home building, stay for the jokes about Justin. And speaking of mantels, the mantel in question is Matt's … that's Matt Millham, our new associate editor at Fine Homebuilding, and Justin's article is about installing a mantel into the house Matt moved into about five months ago. Look for that article in a future issue of Fine Homebuilding magazine.
The guys also talk about the windows in Matt's new house and a brick and tile hearth that Matt has made. And Brian and Rob have a couple commuting horror stories, slightly off topic, but both amusing and harrowing.
However, most of today's podcast focuses on listener questions. That starts off with Troy, who wants the guys to do a whole show about ceilings. Well, maybe not a whole episode, but Rob has some thoughts about ceiling design, especially on the lower ceilings he has in his house. Specifically, Rob has a bit of cathedral-ceiling envy, which he hides by pretending that they are really cavernous and not that nice after all. Brian has a smaller house with 7.5-ft. ceilings, to which he has added skylights and a bit of a raised ceiling. Plus, the guys have opinions on ceiling paint and color.
Jim from North Carolina asks about insulation in his relatively dry, relatively warm, "unconditioned," 2,700-sq.-ft. basement that he is converting to a workshop.
Todd has a 1950s ranch in Upstate New York with a busted shutoff … but he's no plumber. Matt and Rob jump in with gate-valve advice. Repair or replace? There are good options for both approaches.
That leads into a neat discussion about how cautious you should be when doing jobs using skills, like say plumbing or solar roof installation, that you are still figuring out. First priority, safety. Second priority, time and budget. Third priority, expectations. After all that, go for it! Here's Rob:
"I don't necessarily have the skills to knock out a library or an office in stain-grade mahogany, so I won't put that upon myself. But so long as you are okay with the expectations you set, OK, go ahead!"
Or in the concluding words of guest host Brian Pontolilo, "Build On, Baby!"
As the holidays approach, we hope you will take advantage of two great offers for our podcast listeners: A special 20% off discounted rate to subscribe to the Fine Homebuilding print magazine. That link goes to finehomebuilding.com/podoffer.
Also, we have another special offer for podcast listeners … use coupon code GIFT20 at the Taunton Online Store. We have tons of home construction and remodeling gift ideas over there, electronic and print, for you or for your friends and loved ones. You may even find some ideas for the people in your life who love cooking, gardening, and sewing.
But what about the special offer? The prices in the store have been marked down up to 80%. Yeah, the "up to" part of that is a little weaselly, and you'll find lots of things that are discounted by a lot less than 80%, honestly. There Ain't No Such Thing As A Free Lunch. But here's a true incentive: type in GIFT20 as a coupon code for 20% off.
We also have our continuing request for listeners … we need all our fans to take our podcast feedback survey by clicking here. There's a chance to win a $100 American Express gift card. After the promotion ends, you might have a chance to win something else, or our great thanks at the least.
Today's episode of the Fine Homebuilding podcast is brought to you by Weather Shield.
Sophisticated styling. Sleek lines. Stunning simplicity. From the sightlines to the finishes and hardware, Weather Shield has considered every element of design to achieve a true minimalistic appearance with its Contemporary Collection line of windows and doors. Developed in collaboration with architects and interior designers, this collection brings a bold and modern aesthetic to the residential market. With more than 60 years of experience and 33 patents, Weather Shield is faithfully focused on helping you create something better and more purposeful. Find out how Weather Shield can bring your next project to life by visiting weathershield.com and finding a dealer in your area.
Today's episode of the Fine Homebuilding podcast is also brought to you by Lenox Tools.
When you are in the middle of cutting, it is a hassle to change blades. That's why Lenox is excited to introduce their new line of reciprocating saw blades. Now, when you are cutting through metal with the Lazer CT, or through nail-embedded wood with the Demolition CT, you can count on them to last 10x longer than standard bi-metal reciprocating saw blades. And, with the Speed Slot Hole Saw, you get twice as much life along with a unique staircase design that lets you easily pop out plugs. So, if you' re cutting metal, demolishing, or drilling holes, you can rely on Lenox to last long after the job's done.

The show is driven by our listeners, so please subscribe and rate us on iTunes or Google Play, and if you have any questions you would like us to dig into for a future show, shoot an email our way: [email protected]. Also, be sure to follow Justin Fink, Rob Yagid, and Fine Homebuilding on Instagram — and "like" the magazine on Facebook. Note that you can watch the show above, or on YouTube at the Fine Homebuilding YouTube Channel.
The Fine Homebuilding Podcast embodies Fine Homebuilding magazine's commitment to the preservation of craftsmanship and the advancement of home performance in residential construction. The show is an informal but vigorous conversation about the techniques and principles that allow listeners to master their design and building challenges.
Here are a few links related to this podcast: