How-To
Casing a Double-Hung Window
A job you can do quickly and well.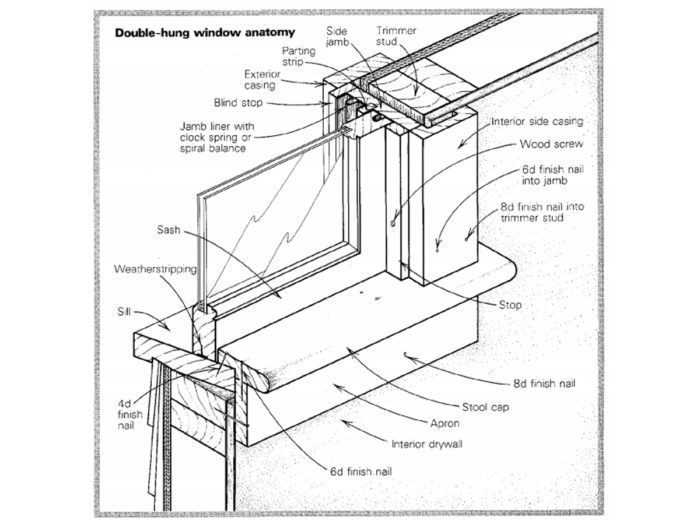 Synopsis: Illustrated with drawings, this is a discussion of how casing can be applied to a double-hung window. The author is an expert trim carpenter and the article is a good source of fundamental information about this style of window.
Despite the growing use of casement windows in new construction, the double-hung wood window is still the traditional choice in Colonial-style houses. In the old days, double-hung windows became popular because they didn't require hinges or other hardware and because small panes of glass (often all that was available) could be used to make windows of different sizes.
Almost any salvage yard will have on hand a varied selection of old double-hung units for a fairly cheap price. The best new double-hung windows have insulated glass and a friction-type slide mechanism that doubles as a weather seal. Some are clad with vinyl. Whatever the brand or age, the anatomy is basically the same, and they're not difficult to case.
If the window has been installed right, its frame will be plumb and square. This makes casing a lot easier. Unlike doors, windows have frames that aren't usually flush with the surface of the wall. Most frames are a little proud, so you have to plane the top and side jambs flush with the wall before installing the trim.
Side and head jambs in a standard double-hung window are usually a full 4-1/2 in. wide. They're designed for the thickness of a standard 2×4 wall: 3-1/2-in. wide studs plus 1/2-in. drywall and 1/2 in. for exterior sheathing.
Window frames in thick walls will require extension jambs, which you can either order from the manufacturer or make yourself. These side and top pieces can be made from wood strips as thin as 1/8 in., or with 1x boards 6 in. or even 8 in. wide. The narrow-strip extension jambs can be glued and nailed directly to the edges of the existing window frames. If you use thin extension jambs, be sure to set the nails so that they won't nick your plane blade when you're planning the jambs flush with the interior wall surface. Wider extension jambs should be shimmed plumb and square with the window and nailed to the rough-opening studs and headers. I still make these a little oversize, so that they project past the surface of the wall; then I plane them in place to fit.
Installation
Many newer-style double-hung windows (Andersen and Pella, for example) can be cased on all four sides with the same trim stock. The stool cap and apron are optional. On older double-hung windows and in any Colonial-style house, you need to trim out the base of the window with a stool cap and apron. Most lumberyards stock about five basic stool-cap styles. Older windows usually have a stool cap that's beveled on its underside to fit on top of the window sill, which is sloped to a standard 12° pitch. New windows use a stool cap that has a tongue on the inside edge that fits into a groove in the sill.
As bought from the lumberyard, the stool cap is just a pine plank that's been milled with a tongue or bevel. You have to cut it to fit the width of the sill and scribe the ends to fit against the wall, beneath the side casings.
For more drawings and details, click the View PDF button below:
View PDF