How-To
Tying a Bow to an Eyebrow
Carpenters mix compound curves to build a bow window topped by an eyebrow roof.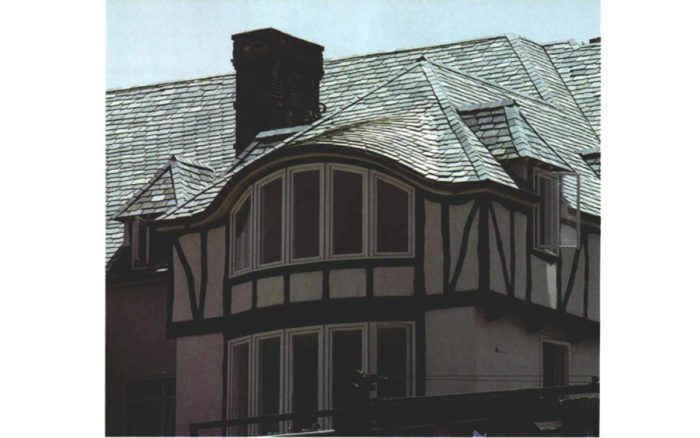 Synopsis: This article explains how the authors framed an unusual bow window capped by an eyebrow roof for a Tudor Revival house near Silicon Valley. Plenty of detail on a job that is not for novices.
Silicon Valley is a symbol of the future. At its heart are row upon row of gleaming, mirror-clad offices and laboratories. Carreras and RX7s fill the parking stalls around the buildings, while technicians inside dust-free workshops probe the mysteries of microcircuits and disk drives.
But you wouldn't know such contemporary pursuits were under way after a drive through some of the local neighborhoods. It seems that many of the Valley's homeowners want to ignore the future and live in houses that evoke a simpler past. Brand-new houses cloaked in Victorian, French Provincial and Colonial detailing are common sights around here. So are Tudor Revival houses.
Tudor houses are probably best known for their half-timbering, in which dark, exposed wooden structural members contrast starkly with whitewashed stucco infill. Just as important to creating a Tudor look are complex roof lines especially dormers with slighty curved hips. Covered with a roof of slate, these houses look like quaint old English inns, where you would expect to find a bed under a down quilt, a stable for your horse and a flagon of ale to slake your thirst.
Last year contractor Ray Anderegg hired us to frame a huge Tudor Revival house in Los Gatos, a bedroom community in the foothills to the west of Silicon Valley. Anderegg is well known locally as the builder of fanciful homes rooted in the European past. This Tudor, which was designed by Irving Haws, features layer upon layer of slate-covered roof planes. Perhaps the most striking of these roofs, and certainly the most challenging for us to build, was the eyebrow roof sheltering the master bedroom. It not only arcs above the adjacent rafters, but bears on the curved wall of a bow window as well.
Calculating the windows
We used Pella windows almost everywhere in the house, including the simple bow window below the bedroom. Pella makes four, five and six-unit bow windows as stock items. The glass ranges from 16 in. to 24 in. in width (in 2-in. increments) and the stock assemblies will fit radii from a little less than 8 ft. to nearly 11 ft. Depending on how wide the glass is, these bow-window assemblies will fit rough openings ranging in width from 7 ft. 3 in. to a touch over 14 ft.
Before we started framing, we consulted Pella's specs to find which combination of units and glass widths came closest to matching the window shown in the elevations and plans. That turned out to be a 10 1/2-ft. radius to the outside of the 2×4 framing, calling for a rough opening of a little over 12 ft. Given these dimensions, the five-unit window with 24-in. glass seemed to fit our needs. In our experience, however, few custom details pop right in without some tinkering. In this case, we had to have king studs between window units to carry the weight of the second story above. Since the Pella specs assume the windows will nest tightly together, without studs between them, we decided on the five-unit window with 20-in. glass. That left us with enough space between the windows for our king studs.
For more photos, drawings, and details, click the View PDF button below:
View PDF