How-To
Venting the Roof
With today's construction methods, the minimum code requirements may not be enough.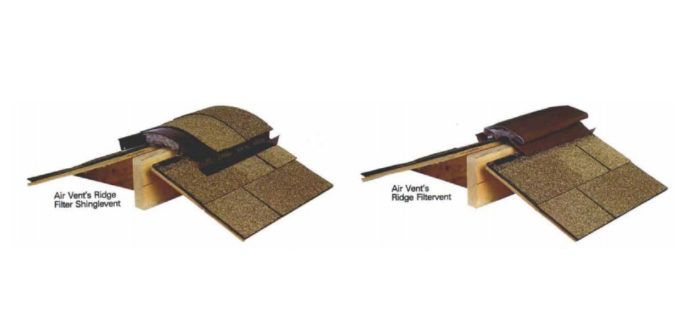 Synopsis: Few topics in residential construction have caused as many arguments as how, why, and even whether to ventilate a roof. This staff-written article explains the basics on this issue. It also includes a look at manufactured ridge vent systems and shows how a site-built ridge vent could be constructed.
On the subject of roof ventilation, the Canadians are fond of quoting Gus Handegord, one of their premiere building scientists. Handegord says, "If you go into an attic in the winter, find frost on the underside of the sheathing and there are no vents, you should put some in. But on the other hand, if you go into an attic in the winter, see frost on the the underside of sheathing and there are vents, close them up."
Although his advice sounds contradictory, Handegord simply recognizes that attic ventilation is a relative issue. How, where, when and even whether you should vent your roof depends on the type of construction, level of insulation, climate, site and probably a dozen other variables. The truth is, very little research has been done on roof ventilation, and the experts don't always agree on what's best.
In this article the term "roof ventilation" refers to a vented air space over the insulation in an attic or a cathedral ceiling. Roof ventilation should not be confused with house ventilation. In a tightly built house, mechanical ventilation is needed to expel stale air and to bring in fresh air for breathing and combustion.
Codes and warranties
All the building codes require roof ventilation. Most of them enforce 1:150 and 1:300 ratios. According to these ratios, you need a minimum of 1 sq. ft. of net free vent area (NFVA) for every 150 sq.ft. of ceiling area below the roof. (The NFVA is the total area of the vent opening and takes into account the area blocked by any screening or louvers.) If you use a vapor barrier on the ceiling, however, or if you divide the ventilation evenly between high and low vents, then the minimum is 1 sq. ft. of NFVA for every 300 sq. ft. of ceiling. The vapor barrier reduces the amount of moist air infiltrating the attic, hence reducing the need for ventilation. Dividing the ventilation between high and low vents increases its efficiency, which also reduces the amount of ventilation needed.
Manufacturers of asphalt and fiberglass shingles also agree that ventilation is a good idea, at least for the longevity of their products. Ventilation under the roof deck (to reduce heat buildup) is a condition of shingle warranties. Some manufacturers (Georgia-Pacific, for instance) even go so far as to stipulate the 1:150 ratio.
A little history
Prior to the 1930s, people didn't vent their roofs. They didn't have to. Roofed with wooden shingles over open sheathing, and with little or no insulation in the attic, houses weren't tight enough to trap heat or moisture. But the next 60 years saw the advent of building papers, asphalt shingles, plywood, insulation and vapor barriers, which had the same effect as putting a lid on a pot of boiling potatoes. As a result, moisture — from breathing, cooking, bathing, plants — began to accumulate inside houses. Households weren't generating more moisture, but tighter houses were retaining more of it.
For more photos, drawings, and details, click the View PDF button below:
View PDF