Design
Building a Butternut Kitchen
Hand-planed hardwoods and high-grade plywood coupled with dowels and dovetails.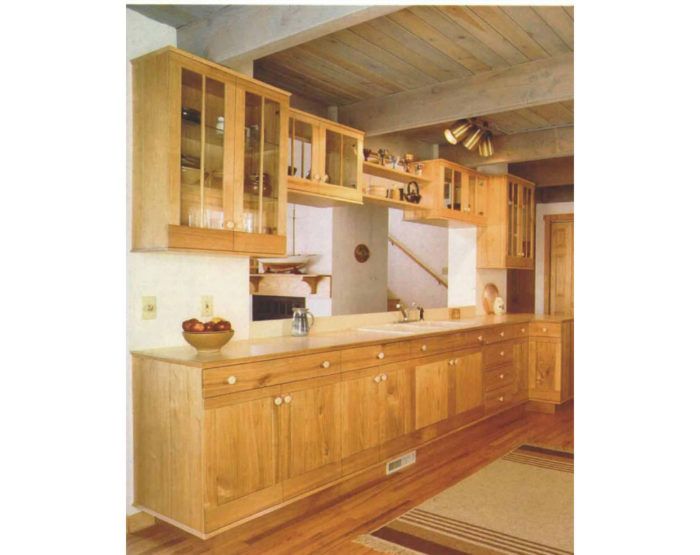 Synopsis: Rex Alexander, a Michigan cabinetmaker, describes a project in which he built kitchen cabinets from butternut for a house with dramatic views of the water. The article gives an overview of cabinet construction and includes a look at a simple, shop-made tenoning jig made by the author. A sidebar discusses the importance of calculating the seasonal movement of wood.
"Wood is vulnerable; it can be spoiled by a single wrong movement of the tool. It has its textures, luster, rhythms—but only the patient hand and seeing eye can coax these forth. Never inert, wood has a will of its own, the seasonal breathing of which can split rock and burst walls." —James Krenov, in A Cabinetmaker's Notebook.
When I first read A Cabinetmaker's Notebook, I was deeply inspired by James Krenov's words of wisdom, not to mention his refined woodworking techniques. Since then, I've studied all of Krenov's books (he's written four that I know of), tried out his methods, and gone about my work with an enhanced regard for wood.
The turning point in my career as a cabinetmaker came when Glen and Dottie Williams asked me to design and build kitchen cabinets for their new house. The house, designed by Texas architect Kenneth Loose, sits atop a bluff near Traverse City, Michigan, overlooking East Bay. The kitchen occupies the west side of the main floor, two steps above a living room that offers dramatic views of the bay.
I knew immediately that the upper cabinets between the kitchen and living room would need glass-panel doors on both sides to link the kitchen visually to the living room. I also thought the cabinets should be simply styled so as to not detract from the open plan and spectacular views, yet at the same time should quietly display wood and craftsmanship.
In short, here was my chance to apply a dose of Krenovian perspective (at least as I interpret it) to a kitchen-cabinet job. That meant carefully selecting wood for color and figure, doweling carcases, dovetailing drawers, and doing plenty of hand-planing (one of my favorite pastimes).
The basic plan
The Williams wanted their cabinets to be made of butternut (sometimes called "white walnut"). Once revered by cabinetmakers, it's a lightweight and moderately soft native North American hardwood (you can dent it easily with a fingernail) that's endowed with rich, chestnut or ginger-brown coloration and delicate figure.
I decided to fuse the subtle beauty of butternut on the outside of the cabinets with the structural integrity of plywood on the inside. The base carcases would consist of 3/4-in., A-2 ("A" grade on both sides) birch plywood tops, bottoms, and sides tongue-and-grooved together, backed with 1/4-in. birch plywood and fitted with butternut-edged, plastic-laminate countertops. Visible ends of the cabinets would be fitted with solid quartersawn butternut panels instead of plywood, and the bottoms of the cases would be embellished with beveled butternut molding and butternut toe kicks.
For more photos and details, click the View PDF button below:
View PDF