Tools & Materials
Using Chainsaws on the Job Site
These cordless tools will help you cut your way out of tight spots and through thick timber.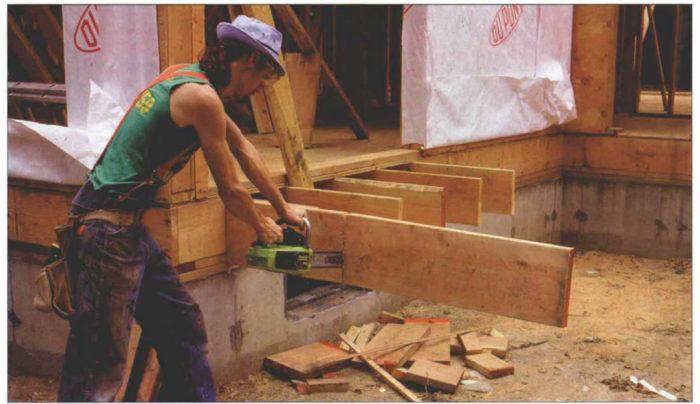 Synopsis: Chainsaws have a variety of uses in building a house, from cutting off cantilevered joists to scooping out a mudsill for an anchor bolt that's too short. The author shares his ideas, with a sidebar on using this potentially dangerous tool safely.
To my constant amazement, chainsaws are usually written off by carpenters as "butcher" tools. Just mention chainsaws to most people, and they think of tree surgery or firewood. But mention them to me, and I think of putting in a bay window. I've used a mini-chainsaw for over 10 years now and believe it can be one of the most versatile and potent tools for the remodeler and stick builder.
I won't pretend that a chainsaw can substitute for a circular saw, but a chainsaw can make all the difference in tight spots or where the material you need to cut is too thick for your circular saw to handle. You can use a chainsaw to make cuts accurate to within 1/8 in. and to reach into places where no other saw can go. The chainsaw's speed, of course, is legendary. And to top it off, a gas-driven minisaw, weighing less than 9 lb., is the ultimate cordless power tool.
To use a chainsaw to advantage, there are three basic things you need to take into account: what cuts are better made with a chainsaw, how you can use the tool safely and efficiently, and how you can keep it sharp and running right.
Rough-cutting planks and timbers
With a little practice you can get square, accurate cuts on material too thick for your circular saw—posts, lintels, beams and landscape ties. Lay out the cut on two adjoining faces, throttle the motor up to full speed and approach the work with the lower edge of the bar at a 45° angle to the workpiece so that it will follow both lines out from the corner. Use a smooth, steady stroke. The process has more in common with good handsaw technique than with using a circular saw.
If the timber is heavy enough to resist the tugging of the chain, or if it's secured in place, you can use the middle of the bar. But if you think the workpiece might move, you'll have to hold the powerhead, or body, snug against the work to support it and roll into the cut with the lower edge of the bar. In this case the front of the powerhead acts like the shoe of a jigsaw. Cutting this way, however, obscures one of the cutlines, so you'll have to gauge squareness by feel.
Chainsaws are great for breaking lumber down into rough lengths, to be retrimmed later with a circular saw. Say your lumber pile is down on the sidewalk, and you need a 6-ft, header from the stack of 20-footers below. You carry the minisaw down, nip off the header at 6 ft. 1 in. and then trim it back on the deck.
For more photos, drawings, and details, click the View PDF button below:
View PDF