Tools & Materials
Designing and Building a Carpenter's Toolbox
The best ones are sturdy, lightweight and compact.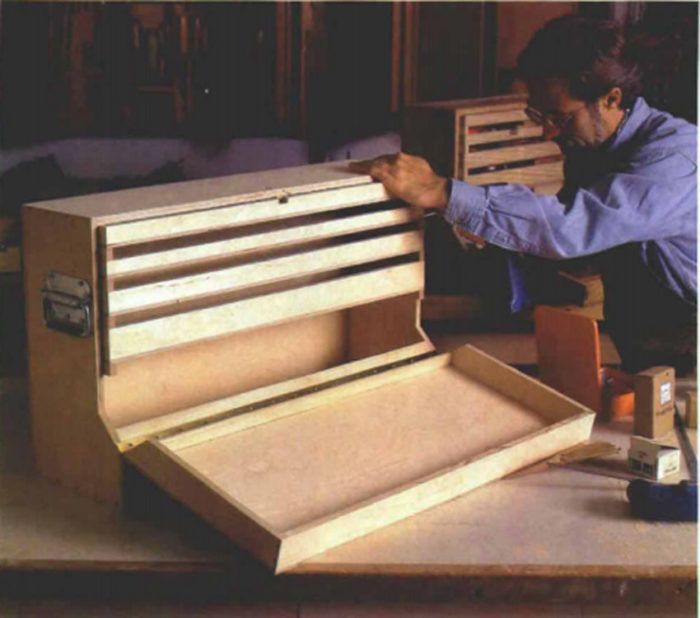 Summary: An architect, contractor and furniture-maker describes construction of a versatile toolbox with drawers for the carpenter who takes a collection of hand tools to the job site. Construction isn't fussy, but the result is useful and pleasing to the eye.
My grandfather was a carpenter, and he gave me my first toolbox more than 25 years ago. It was a benchmark gift—part utility and part good-luck talisman that signaled, if not the passing, at least the sharing of the family torch.
I still have that toolbox, but truth be told, I don't use it day to day. I outgrew it, and in the process, my grandfather's toolbox did what it was supposed to do. It got me to thinking about refining this "tool," which probably gets more use than any other tool I own.
My current toolbox design is in its fifth incarnation. Its shape and articulation are, of course, specific to the kind of carpentry that I do, mostly finish work. You might not need the kind of toolbox I describe, but my rules of thumb should help you to design one that suits your needs.
• Rule 1. Know what tools you use regularly. Honestly evaluate what is deadweight (literally) and what is used only occasionally. With your first-string tools spread out before you, sort them by task and/or size. This process will give you an idea of how you may want to group them, how much space you need and what your largest and smallest tools are.
• Rule 2. Build the smallest toolbox that will contain your tools. Nature abhors a vacuum, and apparently so do carpenters. If you build a lot of airspace into a toolbox, you will fill it up over time. Keep only hand tools in your toolbox. Caulk guns, power tools and miscellaneous fasteners should be stored in separate units.
• Rule 3. Design the box so that you don't have to remove one tool to get at another. This design will save time in moving and looking for tools, and it will minimize damage and loss.
• Rule 4. Keep the box light. My favorite wood for toolboxes is paulownia (photo p. 94). This strong, lightweight wood is used by the Japanese for their tonsus, the ubiquitous chests of drawers. But paulownia can be hard to find. Lacking it, I use Finply or Baltic-birch plywood. Avoid hardware by using finger holes instead of drawer pulls. Reduce the size and number of partitions and tool holders as much as possible.
• Rule 5. Keep things simple. Complicated mechanisms or joints will break eventually. Dovetails are good, but the width of the tails and pins should be about the same as the thickness of the board, not delicate as on fine cabinetry. Comer guards damage finished floors. The ones I've tried were eventually torn off, snagging on the truck during loading and unloading. So far, none of my corner-guardless toolboxes have worn out at the corners. Likewise, I've repeatedly broken off or damaged handles, knobs and virtually anything projecting from the box.
For more detail and photos, click the View PDF button below.
View PDF