Bumpers simplify stair construction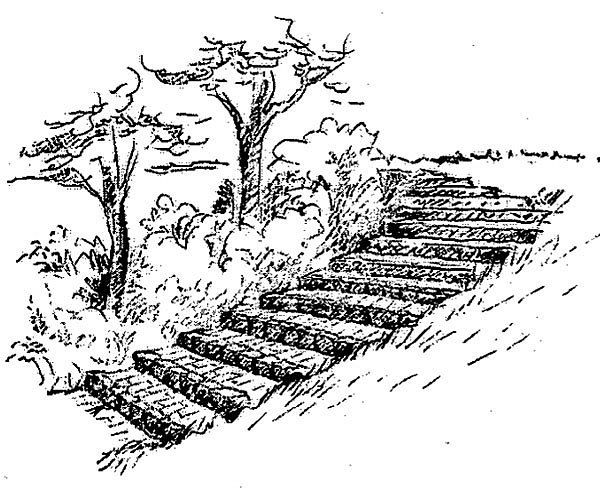 Several years ago, some clients asked me to improve the steps that led from the street to their front door. The old steps consisted of crushed stone held in place by some decaying railroad ties. We wanted to follow the same arcing path around some bushes and trees, but with materials that would hold up to the elements. Steps of cobblestones and bricks seemed right, but the thought of all the complicated forming that it would take to fashion concrete footings for the steps concerned us. A trip to my local masonry-supply yard led to the more affordable solution illustrated in the drawing.
At the masonry supply, I happened upon a stack of concrete parking-lot bumpers. They were straight, with flat tops and bottoms, and about 5 ft. long. Perhaps best of all, the bumpers were light enough so that I could maneuver them by myself.
I arranged a dozen of the bumpers in the required arc, adjusting their height and spacing until I had the layout right. Then I secured each bumper by driving 2-1/2 ft. lengths of rebar through the holes cast into the ends of the bumpers for that purpose.
After painting the tops of the bumpers with concrete conditioner, I mortared rows of cobblestones atop each bumper to create the risers. Then I filled in the spaces between the adjacent risers with tamped earth and a layer of bricks arranged in a running bond pattern for treads. These steps have been in place for years now and are none the worse for wear despite our wicked New England winters.
Bob Jepson Jr., Milton, MA