Podcast Episode 176: When Are Compromises on Quality Materials Worth the Savings?
The Fine Homebuilding editors swap stories about some of their own spring projects before–among other things–debating the pros and cons of affordable alternatives to fine home-building products.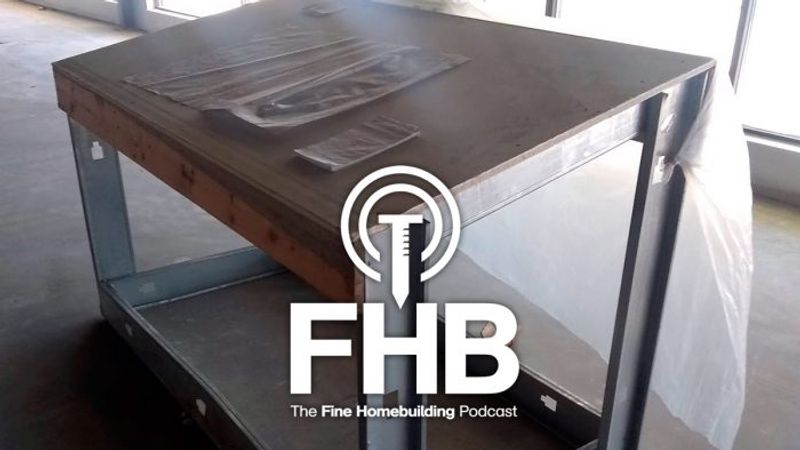 Follow the Fine Homebuilding Podcast on your favorite app. Subscribe now and don't miss an episode:
In this week's podcast, one listener asks if he should break the budget if he really wants to do a top-notch remodeling job; plus, a non-builder listener confirms that builders and remodelers are clearly not the only professionals who give free estimates; and another listener send us photos of some brilliant job-site furniture that a bunch of contractors cobbled together.
---
Editor Projects
Colin: Video Director Colin Russel plans for lots of scraping, sanding, patching, and scaffold building in order to repaint his coastal Connecticut home.
Matt: What Patrick called "landscaping", Matt says is basically hacking away at stuff he doesn't like with a chainsaw while trying NOT to get poison ivy.
Patrick: He thought he was almost done building a new bluestone patio­–but his wife Carol thought otherwise.
Related links:
---
Listener Feedback:

Free Estimates?
Tim writes: Hi FHB podcast crew – I'm a worker-owner at a professional consulting business and also going through the process of finding & hiring a contractor for a new home build, so have been thinking a lot about the similarities and differences in how we do contracting & estimating in the web development & professional services world vs. how y'all do it in the construction trades. So I really enjoyed the ongoing conversation about estimating y'all are having.
I wanted to weigh in on the idea from episode 170 that free estimates are unique to construction – in my experience, that is definitely not the case!
At my day job we usually put a number of hours into estimating & proposal development, especially for new clients and large jobs. It's common for us in research & software development consulting to be asked to submit detailed proposals as part of an RFP process, and it's also unfortunately not that unusual for clients to go through an RFP process and then decide that the whole project is out of their budget to begin with.
I'm as frustrated as y'all are with putting in free hours, but I can't really think of a better model — we just treat it as a cost of doing business. Maybe there could be a small, set fee attached to doing an estimate/proposal, to keep it fair for all the competing parties, but then at the end of the day that money wouldn't really compensate for the time and collecting it would get complicated. And on the flip side, as someone contracting out a new home build, I can't imagine how I'd afford to pay 3 different contractors for their time in preparing estimates!
Steel stud furniture and jobsite hearing damage?
Barbara writes: Hey Guys, A friend of mine in Atlanta just sent me some pictures I had to share with you. He went to wire up fire alarms in a new Crunch Fitness and found this blueprint table. I love it. Notice the top is not plywood, it's sheetrock. My friend surmises the sheetrockers made it.
There's also a table made out of more steel studs and a palette. This is brilliant job site furniture.
It reminds me how much scrap material there is on a big commercial job. I got all the siding and roofing for my very small house as leftovers from commercial building projects.
You mentioned steel studs in a basement on your last podcast. I've never worked with steel studs, only steel roofing. I can't help worrying that the whole jobsite would be unbelievably LOUD. I have enough hearing damage already from using an impact driver on wood. Isn't it even worse screwing together metal? What about the cutting? I can see how you'd manage that working alone in your basement, but those guys putting up partition walls at the Crunch Fitness probably can't hear anything over 10 kHz already.
Talk to us about tinnitus. Have you got it? I do.
---
Question 1: What's the best path to a career in the trades?
James writes: Hi Guys, Love the show, I'm a big fan of what your team does and the quality information being put out.
I'm 36 years old and I've been at a desk job for 12 years now and seriously moving towards a career in the trades. I'm a home owner (my house was built in 1910) Although I have minimal experience with building and renovation, I recently opened up a living room /dining room to make 1 full room, adding oak beams to tie the room together. I'm still shop vacuuming up lath and plaster. Next project will be the kitchen.
What is your advice on how to shift from my current job, to a more fulfilling career in building, carpentry, and/or custom renovations.
Do I go back to school and take a Carpenter Apprenticeship leading to Red Seal Certification. Or just start looking for companies who are hiring and learning right away. I have a few contact already with Passive Home building and Architects, and my sister-in-law's family owns a reputable lumber yard and building facility.
Related links:
---
Question 2: Who is the Canadian Mike Guertin?

@gypsumjoe of Prince Edward Island writes: Hey guys, I started listening to your podcast in October and just caught up a few weeks ago. Your hard work is really appreciated. after listening to 169 podcasts I realize i know less about building a house now then I did in September.  The possibilities of wall and roof assemblies leaves me very over whelmed.
The spectrum of homes being built in P.E.I Canada is all over the board.  Lots of random foam products but none seem to be the norm. And ZIP System hasn't made its way here yet.
With plans to be a home owner this coming year, I'm lost on where to turn for the proper building envelope. Am I suppose to rely only on my architect to design the best building envelope  I want to know who is the Canadian Mike Guertin's, the Matt Risgner's, the Steve Baczek's, and the Martin Holiday's of Canada?
Regardless if I buy or build. I don't know where to turn to ensure the work done to the structure suits my goals. Please help. thanks a lot.​
Related links:
---
Question 3: Can I compromise on material quality and still get a top-notch remodel?
Austin from South Dakota writes: Hey guys, I am planning a new remodel and trying to coax my wife into disregarding our budget on a few items. We're an average income family in South Dakota, and we know that a luxury home with 10$-15$/ft flooring and things of that nature are out of the question. I would like you guys' input on is some of the new, more affordable, materials that are available today. Things like laminate or vinyl flooring, MDF millwork, and hollow core doors. I've used them all and don't enjoy working with them, much less cutting them and breathing in the byproduct. I would prefer to use hardwood or engineered flooring, poplar (or finger-joint primed) millwork, and solid core doors..
My questions are:
What do you guys think of some of these newer materials in the game today?
Laminate/vinyl flooring
Hollow core doors
Particleboard cabinet boxes
MDF trim
The list goes on.
What do you think the following generation will think when they are tearing these materials out of homes? I have completely remodeled two houses now and have ripped out hardwoods, cabinets, millwork, and doors that have been in place for over 50 years. I have a hard time believing that today's common materials will last that long.
How can I (and should I even try) to convince my wife to spend more money on materials that will stand the test of time, knowing that we will only be in this house for 3-5 years?
Thanks in advance, I look forward to the show every week!
Related links:
---
Question 4: Has anyone else switched crafts?
Brian writes: Hey Guys, big fan of the show! I come to finish carpentry in a backwards kind of way. I started woodworking about 15 years ago and have slowly started doing more and more DIY projects for friends and families. I find myself more and more interested in building science, and less interested in improving my handcut dovetails, or another 5 methods to sharpen a chisel from Fine Woodworking :).
My question is… Has anyone on the show gone through a similar transition and do they have any specific advice for this switch? I feel like the more typical DIY to Woodworker transition is obvious (slow down, hold yourself to tighter tolerances, buy unneeded expensive tools) but I'm wondering if there are any good tips for learning where to focus on efficiency and where to focus on dialing it in perfect while doing finish carpentry projects?
Either way, love the show, keep it up!
Related links:
---
#KeepCraftAlive

Support the trades! Buy a #KeepCraftAlive hat or t-shirt.
---
This episode of the podcast is brought to you by MiTek, ZipSystems, and Danner boots
This episode of the Fine Homebuilding Podcast is brought to you by Danner boots. We're not fortune tellers, but when you lace up our new Stronghold work boots, it's easy to see that the future looks strong. We're Danner, and after 85 years of making boots for the unforgiving Pacific Northwest… well, that means our boots come with deep roots. And the new Stronghold work boot is no exception. This is what happens when iconic quality runs into modern technology. You get tomorrow's classic today. Get into the Stronghold for strength that starts right from where you stand. Find your local store at Danner.com. 
We hope you will take advantage of a great offer for our podcast listeners: A special 20% off the discounted rate to subscribe to the Fine Homebuilding print magazine. That link goes to finehomebuilding.com/podoffer.
The show is driven by our listeners, so please subscribe and rate us on iTunes or Google Play, and if you have any questions you would like us to dig into for a future show, shoot an email our way: [email protected]. Also, be sure to follow Justin Fink and Fine Homebuilding on Instagram, and "like" the magazine on Facebook. Note that you can watch the show above, or on YouTube at the Fine Homebuilding YouTube Channel.
The Fine Homebuilding Podcast embodies Fine Homebuilding magazine's commitment to the preservation of craftsmanship and the advancement of home performance in residential construction. The show is an informal but vigorous conversation about the techniques and principles that allow listeners to master their design and building challenges.
Other related links