How-To
Building an Efficient Fireplace
A variation of the Rumford design reflects heat into the room rather than letting it disappear up the chimney.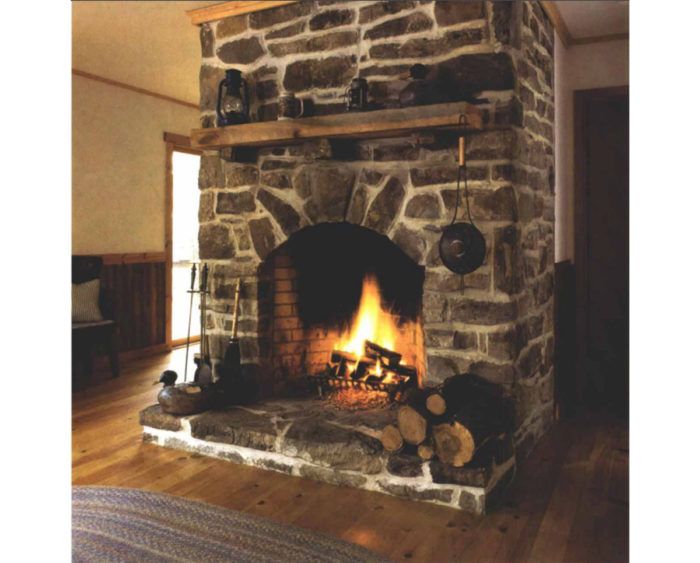 Synopsis: A master mason explains how to build a fireplace that warms the room efficiently. He covers the whole project, from calculating the proportions of the firebox to shaping the smoke chamber and building a stone arch. A illustrated sidebar shows cross-section views of a properly designed firebox, smoke shelf, and damper.
A couple of years back, my good friend Nick called to tell me that he'd bought a 40-acre tract of land in southern Pennsylvania. I wondered how this purchase would involve me, and the answer came quickly. Nick planned to build a cabin overlooking the valley, and the centerpiece of the cabin would be a large stone fireplace. Having built hundreds of fireplaces as a mason, I was the right friend to call.
Finding stone wasn't a problem. The mountainside lot had many old stone fences and loose rock strewn everywhere. Nick, however, wanted this stone fireplace not just for aesthetic reasons but also for heating the cabin. After discussing the options, we decided that our best bet was a Rumford-style fireplace, efficient due to its wide, high, shallow firebox.
Rumford fireplaces radiate heat
Count Rumford was a talented inventor who fled the colonies to England in 1776 because he was a Loyalist and supported the monarchy. Rumford was fascinated with fireplaces and chimneys. He experimented with the principles of fireplace design and construction, and he wrote a number of essays and opinions on the faulty fireplaces he observed. He built a reputation in England by repairing hundreds of faulty fireplaces.
In almost every case, Rumford discovered that the throat area of the fireplace was too large; throats tended to be large because there had to be enough room for a chimney sweep to climb through to clean the chimney. He discovered that a large throat made a fireplace burn less efficiently.
In his study of fireplaces, Rumford also found that the most beneficial heat emitted from a fireplace is radiant heat, which is heat reflected into the room from the back and sides of the firebox. To maximize the effect of radiant heat, Rumford designed a fireplace with a tall, wide opening and a shallow firebox with widely angled sides to radiate as much heat as possible. Rumford also built his fireboxes out of a smooth, fireproof material, such as brick, to promote the smooth flow of air and to reflect heat instead of stone, which has a rough surface that inhibits airflow and absorbs heat.
Getting the proportions right
As I began the plans for Nick's fireplace, I turned to Vrest Orton's book The Forgotten Art of Building a Good Fireplace , one of the best books on Rumford-fireplace design and construction. In this book Orton outlines the details and proportions needed to build a successful Rumford fireplace.
For more photos, drawings, and details, click the View PDF button below:
View PDF