Production Setup for Deck Railings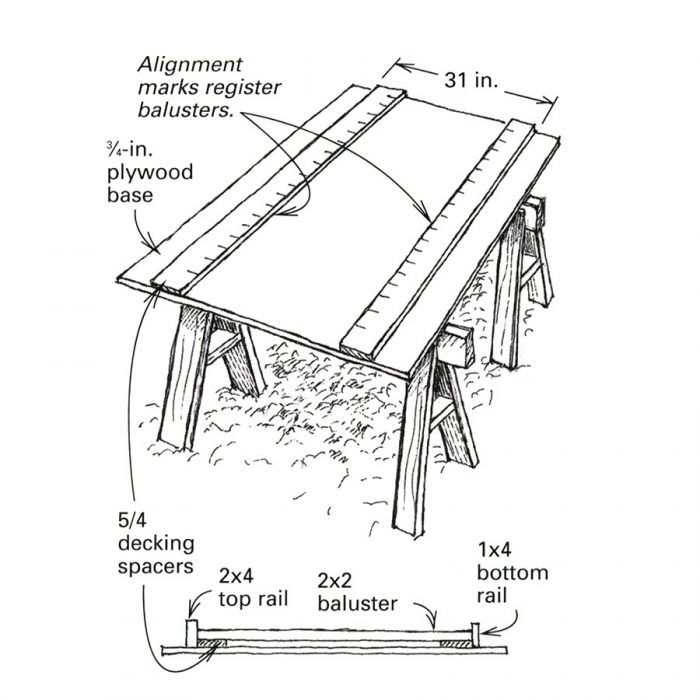 The drawing shows a simple indexing fixture that I use to lay out sections of deck railing. In the example shown here, I assembled railings that had 31-in. balusters, a 2×4 top rail and a 1×4 bottom rail. The key to the system is a pair of 5/4 spacers made out of a couple of 8-ft. lengths of decking material.
Set a sheet of 3/4-in. plywood on a pair of sawhorses, and affix a couple of pieces of straight, 5/4 decking to the plywood. In this case, I placed them 31 in. apart. Next I marked the baluster spacing on the two pieces of decking. This job called for the balusters to be on 5-in. centers, with 3-1/2 in. spaces between them.
Next, place your top and bottom rails against the outside edges of the decking, spread your balusters and align their edges with the spacing marks. Now you're ready to use a pneumatic nailer to nail everything off and affix whatever trim detail is appropriate. It takes me about 15 minutes to assemble 8-ft. sections of railing using this method, and the balusters are all perfectly plumb.
Michael Fortuna, Orting, WA