Podcast 527: Sloping Decks, Brick-Filled Framing, and Skylights
Significantly sloped decks, masonry-filled stud bays, and installing skylights in a cathedral ceiling.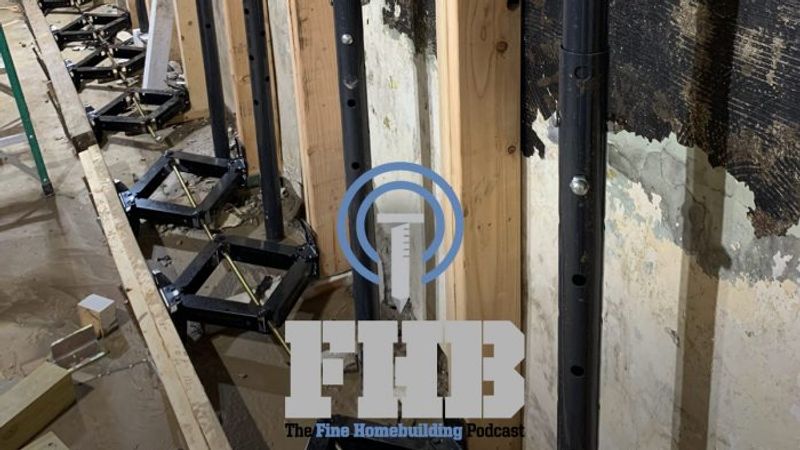 ---
Follow the Fine Homebuilding Podcast on your favorite app. Subscribe now and don't miss an episode:
Help us make better episodes and enter for a chance to win an FHB Podcast T-shirt:
www.finehomebuilding.com/podcastsurvey
Chris shares his experience with building codes in Chicago. Dale thinks the podcast is throwing shade on tube-shaped skylights. NextLevel wonders if his contractor's plan to slope his new deck is a good one. TJ asks about the brick masonry filling his stud bays. Tom is looking for help installing skylights in a cathedral ceiling.
---
Editor Updates:
Related Links:
---
Listener Feedback 1:
Chris in Chicago writes: Greetings again FHB people's from Chicago.
Found your discussion in episode 519 about codes and getting them changed and why they are like they are interesting. Here in Chicago and a couple collar counties the codes are heavily influenced if not outright written for the unions as far the MEP trades go. Romex, BX, PVC, Pex, Sharkbites, press fittings, flare fittings, flexduct and most everything else that became standard for the other 99 counties in Illinois and the rest of the country decades ago are not allowed. I am guessing NY, LA and some of the other large cities in the US may be the same, but I don't know.
I remember my father wiring and piping our summer A-frame he bought in Wisconsin with Romex and PVC in 1981 and vividly remember the joy he experienced with how much easier it was than with conduit and cast iron. Interestingly, as most of the country stopped using lead service pipes going into homes and buildings in the 1950s, that practice continued until 1995 in Chicago because the plumber's union was able to keep that in the code until the federal government finally forced the city to change it.
Happy holidays FHB crew, Chris in Chicago
Related Links:
---
Listener Feedback 2:
Dale in Boulder, Colorado writes: Hey Guys — As a follow-on to FHB issue 310 in October, here is my endorsement for solar tubes.
I listened to all of your podcasts since the very first episode and don't think solar tubes, or tubular skylights, have been mentioned once as a solution to bring daylight into dark spaces, such as hallways. Obviously, they only work for single-story houses or the top floor of a multi-floor house. We have three, which were installed in our ranch-style home 20 years ago, and they are in great shape with little degradation from the high UV at our 5,200-foot elevation. Two illuminate hallways, which would otherwise be dark tunnels, and the third is in a bedroom on the north side of the house, which would otherwise be quite dark with only one, east-facing window. On various podcasts where the topic of interior, daytime illumination was discussed, window options and energy efficiency were debated, but I don't recall that less expensive solar tubes were ever mentioned.
On another note, adding Kiley to the podcast was an excellent move as she brings a different perspective, especially when, as a non-building professional, she asks clarifying questions which are helpful to me as a DIYer.
I have a standing date with the podcast every Sunday morning, when the dog and I go for a long walk.
Regards, Dale Boulder, Colorado
Related Links:
---
Listener Feedback 3:
Tony writes: Hello Podcast! On your last podcast you all talked about DIY solar and it finally prompted me to take the time and send you all an email as I have an excellent book to recommend. The book is Install Your Own Solar Panels, a book I first found at my local library and then ended up buying my own copy. I haven't actually installed my own yet, but it is on my very long to do list!
I've got to tell you all that I missed attending a live taping of one of your shows at the 2021 Midwest Building Science Symposium. I was there for the whole symposium, but my wife and two young kids were in Kansas City as well and I didn't realize you were doing the show live following the symposium and had made plans with them. Wasn't able to attend the symposium this year as we had made plans for a family trip on the same week before I knew when the symposium was this year, but will hopefully make it again next year! I should mention that while I haven't made it through all the previous episodes of your podcast, I did pull the trigger and become an all-access member/subscriber.
I've pasted my email below that I sent in originally, you discussed my question/plans in episode #344. In your response to my thoughts on straightening out my basement walls, the general consensus was that I should just tear down and rebuild my basement wall and that I had done much of the hard work already. However, having never built a CMU wall, the idea of not having to do so was much more appealing! Plus, despite the appearance that I had done much of the work already, I don't really think that was the case. I had excavated enough to take pressure off the wall, but really not enough to safely construct a new wall in place of the old. Not to mention the labor of demolishing the old wall and removing the material. It took me a long time to finally figure out exactly how I would do it and what materials I would use, but I finally found a product, "Gorilla Wall Braces," and using those, some doubled up 2x6s, along with 12 or so scissor jacks, I was able to straighten out my basement wall!
Once I had it straightened out, I excavated out so as to install a French drain to a sump pump with a dimpled drainage mat against the CMU wall, allowing water through the wall and straight into the French drain. I've built a 2×6 wall on 12″ centers against the wall anchoring it to the floor and joists above so as to keep the wall from moving in again. The basement has stayed dry ever since and on really rainy days you can hear the sump pump doing its job!
With the wall straightened out, I was able to get the first floor ready to rent with minor cosmetic work and have had that rented out for going on a year now. Meanwhile, the second floor, which was originally accessible via an interior staircase as well as an exterior set of stairs, I have closed off the interior stairs and am doing a "deep energy retrofit" on the upstairs. It was all metal lathe and plaster, which I removed and opened up the entire space to make a "studio" apartment, likely going to make it into an AirBnB. I am doing Bonfig walls and ceiling (in some areas that are cathedral), hyper-heat Mitsubishi mini split, DIY pex manifold. I got a good start on the Pex manifold this evening and have attached a picture of that!
I'm just a little over $80,000 in on this second house, but that is everything including the actual purchase of the house. I would like to think I would have finished it up by now, but since my first email we had a second baby girl so we have 4-year-old and 18-month-old girls and my wife tends to want me home more than across the street working on our rental property! Eventually I will likely have three rentals incomes in this one house. I'll try and do better to send in an occasional email with picture updates. I keep telling myself I could do well with a YouTube channel, but don't want to take the time to film and then edit everything!
I enjoy the show and listen every week, keep up the good work guys!
Thanks, Tony
Related Links:
---
Question 1: Do I need to slope my deck?
NextLevel writes: Hey – I'm having a deck built and the contractor recommends sloping the deck several inches so "water will flow away from the house." Is this necessary? I'd like the deck to be nice and level.
Related Links:
---
Question 2: Can I safely remove and replace brick-and-mortar fireblocking?
TJ writes: I'm renovating an old 3-story balloon framed house. There are mortared bricks in each stud bay from the foundation up about 6 in. above the floor level installed as fireblocking and on the second and third floors there are bricks from the let-in ledger up the same 6 in above the floor level. I'm trying to insulate and air-seal the house as best I can. Can I safely remove the bricks and mortar and fireblock another way? Ideally, I'd like to insulate the walls and not have the bricks preventing me from doing so. I've gutted the inside of the building so it's fairly easy to chip out bricks and mortar. Thanks; TJ
Related Links:
---
Question 3: Is blocking ventilation a problem when installing skylights?
Tom writes: I'm looking for detail articles regarding installation of skylights in an existing cathedral roof/ceiling. The current roof ventilation has eave and ridge vents w/ ~2″ airspace between top of insulation and bottom of roof sheathing. The skylights will be installed approximately halfway between eave and ridge. I'm worried installation of the skylights will totally block the ventilation in each rafter bay. Is blocking the ventilation air a problem, and if so, are there tried details providing airflow through / around the skylight blocked bays? Many Thanks. Tom
Related Links:
---
Question 4: What's a safe assembly for a semi-conditioned space in a humid climate?
Andrew writes: Dear FHB podcasters, my name is Andrew, long-time listener and FHB reader. I appreciate all the work you guys do for the magazine and for the podcast. Here is my question if you guys deem it worthy of discussing.
I live in Alabama in the Tuscaloosa area. I have a small 20×24 shop that I rebuilt about 7 years ago. The foundation is from an old welding shop that was my wife's grandfather's that was in the woods about 100 yards from the house. It had been neglected for many years, so I tore down the old mason block walls until it was one course tall, filled them with concrete and power washed the slab. I rebuilt the walls with 2×6 framing and with my transit laser was able to get flat walls on this old unlevel slab 😃.
The lumberyard engineered the roof and with a structural beam I was able to only need rafters so inside I have a nice tall ceiling (15'6" to the bottom of the beam). I have been in construction my whole life, I started as a framer, then finish carpentry, then construction management, and I recently have gotten back into the field doing hands-on work. With that in mind I'm endeavoring to get this a more work-oriented space. I have been collecting insulation slowly and would like to insulate and drywall the shop. My question is what's a safe assembly for a semi-conditioned space in our humid climate? By semi-conditioned I mean I will probably use a window unit in the summer for now with the goal of doing a minisplit at some point, and use an oil radiant electrical heater to take the chill out when necessary in the cold times. My biggest worry is getting a moisture problem. Should I air-seal as best as possible, insulate, drywall and paint with a nice latex paint? I especially desire input for the ceiling. Will insulation in a 2×6 rafter be ok? The roof is currently unvented, but I can easily add ridge vent and cut vents in the soffit if needed. Sorry for getting wordy!
PS I'm glad I was able to slip air-sealing into my question 😆 here are a couple pictures of the building, please excuse the mess.
Related Links:
---
END NOTES:
Podcast 527: Members-only Aftershow – Educating new home buyers: The crew talks about what new homeowners can do to take the mystery out of owning and maintaining a home.
---
Check out one of our Project Guides: Siding & Exterior Trim!
Check out our FHB Houses:
Visit the Taunton Store  •  Magazine Index  •  Online Archive   •  Our First Issues   •  All Access
---
Help us make better episodes and enter for a chance to win an FHB Podcast T-shirt: www.finehomebuilding.com/podcastsurvey
---
If you have any questions you would like us to dig into for a future show, shoot an email our way:

[email protected]

.
If we use your question we'll send you a FHB Podcast sticker!
---
FHB Podcast T-shirts!
Represent your favorite podcast! Available in several styles and colors. Made from 100% cotton. Find the Podcast t-shirt and more cool products in the Fine Homebuilding Store.
---
Fine Homebuilding podcast listeners can now get 20% off anything in the Taunton store, including Pretty Good House.

Use the discount code FHBPODCAST to take advantage of this special offer.

"Finally, knowledgeable people talking about building reasonably-sized, high-performance houses for normal people with real budgets!"
— DanD, VA, 8/19/22, Amazon.com review
---
We hope you will take advantage of a great offer for our podcast listeners: A special 20% off the discounted rate to subscribe to the Fine Homebuilding print magazine. That link goes to finehomebuilding.com/podoffer.
The show is driven by our listeners, so please subscribe and rate us on iTunes or Google Play, and if you have any questions you would like us to dig into for a future show, shoot an email our way: [email protected]. Also, be sure to follow Fine Homebuilding on Instagram, and "like" us on Facebook. Note that you can watch the show above, or on YouTube at the Fine Homebuilding YouTube Channel.
The Fine Homebuilding Podcast embodies Fine Homebuilding magazine's commitment to the preservation of craftsmanship and the advancement of home performance in residential construction. The show is an informal but vigorous conversation about the techniques and principles that allow listeners to master their design and building challenges.
Other related links