Sealing a Drain Penetration in a Foundation Wall
Low-expansion urethane goam, roof cement, and roof vent flashing is a better process to prevent cracking.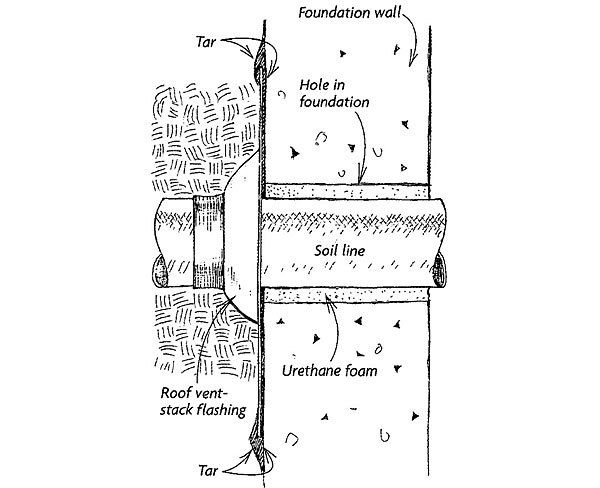 Lately, we've been searching for a better way to seal the gap around a drain pipe where it exits a foundation wall. The standard technique that most builders use in our area is to pack the gap with mortar or hydraulic cement. But lately, our plumbing inspectors have been frowning on this practice because any shift in the soil during frost cycles can crack a rigidly installed pipe. So we've tried a half-dozen different methods, with mixed results, until we started using the detail shown in the drawing.
Instead of mortar, we now use low-expansion urethane foam to fill the gap around the pipe. This is the same stuff we use to seal cracks and crevices throughout the house to reduce air leaks. Once the foam has cured, we apply a layer of roof cement to the outside of the wall. This is the thick stuff, the kind of roof cement that you spread with a trowel. Then we slip a roof vent-stack flashing over the pipe and bed the flashing in a 1/4-in. thick layer of roof tar. We lap the tar over the edges of the flashing to promote a better seal.
At backfill time, care must be taken to prevent damage to the flashing. This extra care has presented no problems for us, and we've had great luck with the results.
Mike Guertin, East Greenwich, RI
Edited and Illustrated by Charles Miller
From Fine Homebuilding #122