How-To
Tiling a Bathroom Floor
Cementitious backerboard speeds up the job, but start with a subfloor that is firm and flat.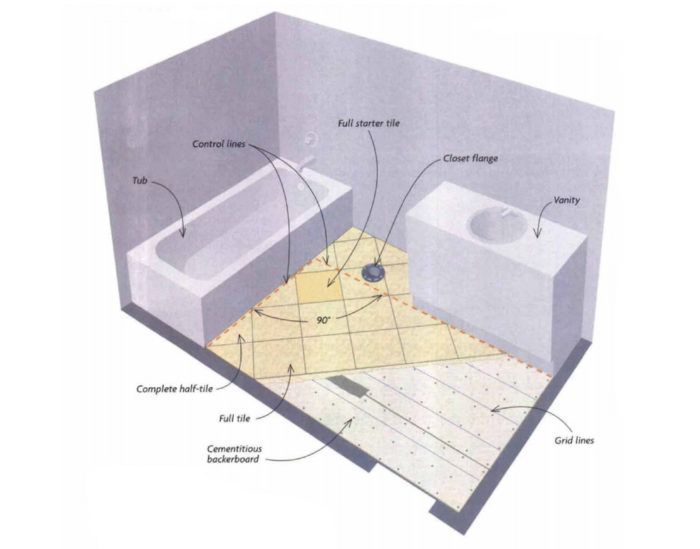 Synopsis: The author, a tile contractor, shows us how to install a tile floor over cement backerboard in a bathroom. His step-by-step treatment covers all phases of the job, from checking the floor for stiffness to applying grout after the tile has been set.
If anything can beat ceramic tile for a bathroom floor, I'd like to know what it is. Durable and nearly impervious to water damage, tile also is adaptable to just about any architectural style. The ceramic-tile industry now offers an incredible variety of tile, as well as reliable materials for setting it. If tile is more expensive than some other floor coverings, it can last as long as the house with little upkeep.
True enough, but a tile floor can be a nightmare if it is not laid out and installed carefully on a well-prepared subfloor. One of the key early considerations is the substrate on which the tile will be installed. Floating a mortar bed at least 1-1/4in. thick used to be the only choice. Now we can use quick-to install cementitious backerboard.
As for the tile itself, durability and smoothness are of major concern. Most tile manufacturers rate their tiles for durability by classifying them as either residential, commercial, light industrial or industrial. For a bathroom at home, the residential grade is just fine. Smoothness is rated on a numerical scale measuring the coefficient of friction, or COF. Even though the roughness scale goes all the way to 9, I've found that a rating of 0.6 provides good slip resistance. Just keep in mind, though, that the COF goes down when the tile is wet. If you don't find the COF specified on the tile box, you can call the manufacturer for the information.
Make sure the subfloor is flat
Setting tile on an inadequate subfloor is begging for trouble. The subfloor should meet deflection criteria set by the Tile Council of America— in other words, it can't have too much bounce. If it does, chances are good the tile will lose its bond with the backerboard, or at least that grout joints between the tiles will crack. The Tile Council allows a maximum deflection of 1/360 of the span, or the span in inches divided by 360. For example, if you have a span of 48 in., the most sag the subfloor can show under a load is 0.13 in., or roughly 1/8 in. Although the Tile Council calls for a minimum 5/8-in. exterior-grade plywood subfloor, houses where we set tile often have subfloors of 5/8-in. oriented strand board, and we haven't had any problems. Minimum joist spacing is 16 in. o. c.
I can sense whether there is too much bounce simply by walking around on a floor. That's after setting hundreds of tile floors. When I started, though, I measured the deflection with a length of iron pipe and a dial indicator just to make sure. If there's too much deflection, don't go any farther without fixing the problem.
For more photos and details on tiling bathroom floors, click the View PDF button below. 
View PDF