Tools & Materials
Jigsaws Revisited
Less vibration and easier blade changing distinguish the current tools from those of only five years ago.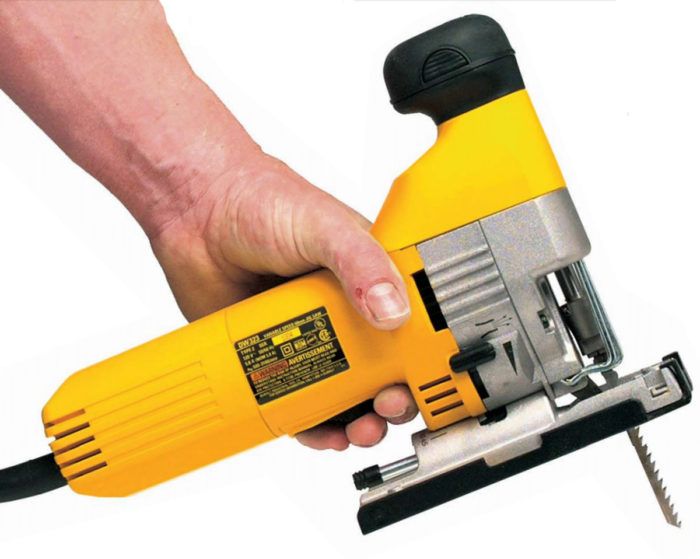 Synopsis: This tool survey compares the specifications, features, and performance of 19 professional-grade barrel-grip and top-handle jigsaws ranging in price from less than $100 to over $500. The article includes an overview of blade styles and blade-change options.
Manufacturers call them professional or contractor grade, but I think of them as grown-up tools, the big boys designed to be used all day and every day. My own introduction to grown-up jigsaws came in the early 1980s with the Bosch 1581. The 1581 remains the standard against which I (and many others) measure jigsaws. It had a horse of a motor and three orbital settings; the base tilted for beveled cuts; it even had a blower to keep sawdust off my layout lines. It ripped and crosscut plywood and framing lumber with surprising speed; with care, it could make crisp, clean curved cuts. It was a dream for notched cuts that were neither undercut nor overcut. Still, almost everything that jigsaw did could have been better done with another tool. But often as not, the better tool was back at the shop, on another job or in a tool catalog.
Today, you can choose from about two dozen grown-up jigsaws. These tools are more powerful and more convenient than the breakthrough models of the 1980s (or of even five years ago, for that matter). The current generation of jigsaws still won't cut as quickly as a circular saw or get as square to the face as a bandsaw. But the jigsaws are getting there, and their versatility is really hard to beat.
The choice of top handle or barrel grip remains subjective
To say that each jigsaw configuration — top handle or barrel grip — has its proponents is wild understatement. Broach the topic at any job-site coffee break, and you'll find that each school adamantly insists upon the greater comfort, control and precision afforded by their preferred style.
I prefer top handles. I like my hand to be directly over the cutting head for control, especially in one-handed use at the sportier orbit settings.
Still, two of the best woodworkers I know argue that cutting precise scrolls and other curves is far easier with a barrel grip where the saw is pushed forward rather than down. After three straight days of cutting with both types, I began to see their point.
Saw configuration also determines the switch type and location. Most barrel-grip saws have slide-type locking switches that are inconveniently placed (especially for left-handers), requiring considerable fumbling to shut off the saw. The trigger of a top-handle saw allows you to shut off the power immediately without groping for a switch. As if to compensate perversely, some top-handle saws locate their switch-locking button where it's easy to trip accidentally (again, especially in left-handed operation). The potential danger is obvious.
For more photos and details, click the View PDF button below:
View PDF