Tools & Materials
Dust-Collecting Sliding Miter Saw
The Makita LS1219L makes precise repetitive cuts and can handle wide and heavy timbers.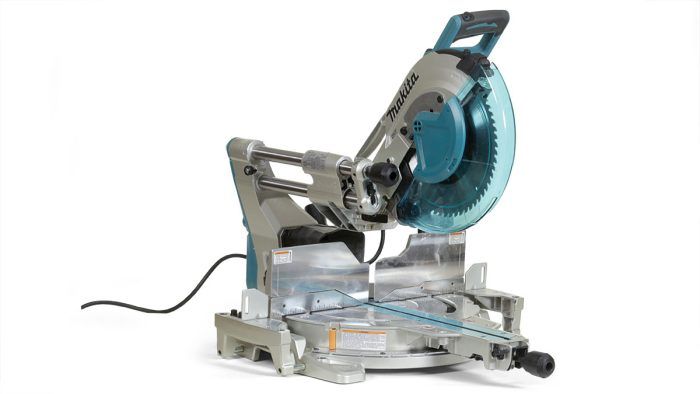 Finish carpentry and furniture-making require a miter saw with accuracy, durability, and logical operation. I recently tested nine sliding miter saws for Fine Woodworking, and I found the 12-in. Makita LS1219L to have all of those in abundance. It makes precise repetitive cuts and can handle wide and heavy timbers without breaking a sweat.
Makita LS1219L
Max cut at 90°: 13-1 ⁄ 2 in.
Miter range: 60° left and right
Miter detents: 0°, 15°, 22.5°, 31.6°, and 45° left and right
Bevel range: 48° left and right
Bevel detents: 0°, 22.5°, 33.9°, and 45° left and right
Weight: 65 lb. Price: $800
A combination of glide rods alongside the sawhead and upfront controls for tilt and bevel allow you to put the saw tight to the wall, which is a real bonus where space is at a premium. It also creates a relatively compact saw that, even at 65 lb., is easy to haul around. The slide lock and the head lock are easy to use, and they hold securely. The stout glide system has two support rods that ride in linear bearings, providing supersmooth travel with virtually no errant movement. The horizontal plunge handle is comfortably ambidextrous and has an easy safety-release button. The system creates nearly 15 in. of crosscut capacity.
In combination with the tall fence, the saw can handle 8-in. nested crown and 6-3⁄4-in. base (vertical), and it can crosscut a 4×4. The head/glide assembly has 48° of right and left bevel and is locked into position by a ratchet nob at the top front glide rail. A convenient flip-stop depth-of-cut control makes grooves and easy, accurate dadoes. There's also plenty of power to handle heavy cutting chores. I could easily cut 8/4×8 red oak in a single pass with an 80-tooth carbide blade.
A comfortable thumb switch overrides miter detents, and a quick-acting knob locks the miter setting. Slide-out extensions support stock on both ends of the saw. The tall fences are easily removable for bevel cuts. And the stock hold-down is superb, a rarity for chop saws. It can be placed on both sides of the blade and actually holds the work in place.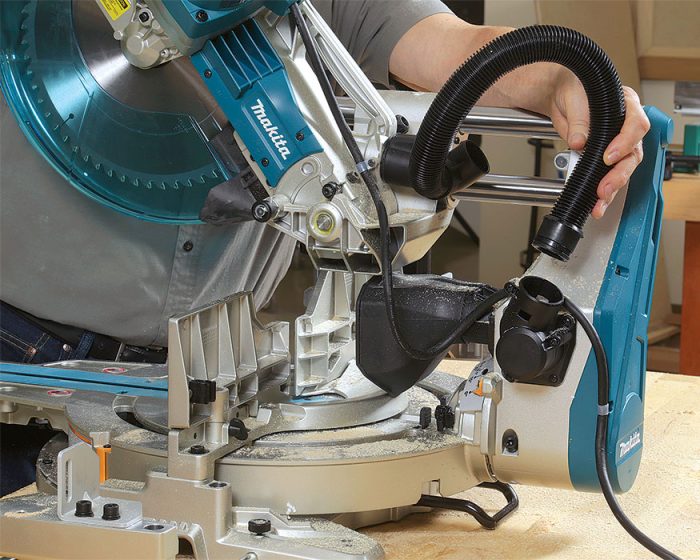 One of the biggest annoyances with most miter saws is the copious amount of dust they fling into the air on every cut. The Makita's dust collection is the best I've found on a sliding miter saw. Two collection ports in the blade guard and behind the fence provide nearly dust-free cuts when connected to a good shop vacuum. A dust bag is provided but is fairly small.
The saw has a laser that is meant to show either side of the cut, but it was so faint it was virtually impossible to see in direct sunlight or a well-lit shop. This is fine with me, because I prefer a pencil mark anyway.
—Roland Johnson, a frequent contributor to Fine Woodworking who works wood in Sauk Rapids, Minn.
Photos: Barry NM Dima.
From Fine Homebuilding #319
---
RELATED STORIES