Tools & Materials
Extension-Cord Basics
Wire size, jacket materials and voltage drop are important, often-ignored features of these ubiquitous job-site umbilicals.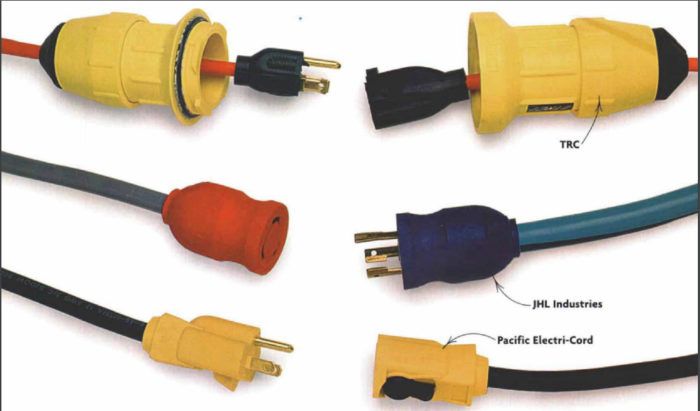 Synopsis: This is a thorough guide to extension cords, covering recommended wire gauges, jacket types, plugs, and in-line ground-fault devices. And how to make and repair extension cords.
Walked on, left out in all kinds of weather, slammed in doors, twisted, yanked, pulled, tied in knots, extension cords are always expected to work. They are as indispensable as hammers or circular saws on a job site.
But if you're like me, you probably don't give much thought to extension cords, except to curse them occasionally when they get underfoot or resist being neatly coiled. I didn't think much about them until the day I eventually killed my best orbital sander by using an extension cord that was too long. After that, I vowed never to make a similar mistake and gave myself a crash course on extension cords and electricity. I talked to electricians, manufacturers and safety officials to find out the facts about extension cords. Here's what I learned.
A cord's wire gauge and length affect power supply
Like a garden hose carrying water, the diameter of any wire determines its ability to carry electricity. A wire with a small diameter can't carry as much power as a wire with a larger diameter; the smaller wire has greater resistance. Wire resistance is also determined by length, composition, generation source and demand on the other end. When it comes to extension cords, wire diameter and length are the most important factors to consider.
First, the diameters of each wire (the hot, neutral and ground) inside an extension cord are classified by American wire gauge (AWG). The largest diameter has the smallest AWG number; most job-site extension cords are made with wire ranging in size from 10 to 18 AWG and are stamped on the cord's insulation jacket. Each gauge has a recommended amperage capacity. Because all electric tools demand different amounts of power to run properly, it's in your best interest to match the tool's power demand to the cord's capacity.
Second, an extension cord that's too long can also create a type of resistance known as voltage drop, which increases as the cord gets longer; as the electricity travels farther from the source, its energy diminishes. Voltage drop can have adverse effects on power tools. As I said earlier, I killed my best orbital sander by repeatedly using a cord that was too long; in this case, it was an 18-ga. extension cord that was 100 ft. long. The voltage drop over the long thin cord made the motor run slower, which in turn created carbon deposits on the brushes, which decreased the motor's efficiency. I started to push the sander harder, which just aggravated the sander's decline. To avoid voltage drop, it's always best to use the shortest possible cord.
For photos and information about making and repairing extension cords, click the View PDF button below. 
View PDF