Keeping Shower-Drain Weep Holes cClear
How paper coffee filters can be an easy and inexpesive fix to allow water to pass through.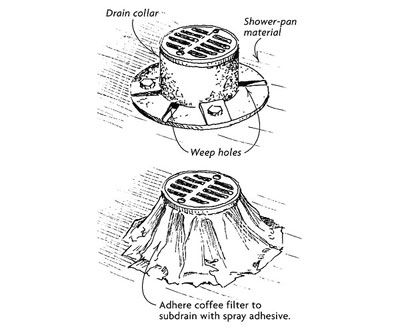 Shower-pan liners have come a long way since my grandfather's heyday as a tilesetter. Back then, pan liners were made of metal, and waterproofing consisted of multiple layers of hot-mop tar and felt. Today, pan liners are made at the job site from a roll of 40-mil. thick polyvinyl material, which is installed atop a sloped substrate that leads toward a floor drain. The liner is captured between the drain's flange and its collar. Not only does the collar support the drain strainer, but it also helps to remove excess water from the pan through a series of weep holes in the base of the collar.
Ever wonder why some showers stay damp and moldy? The answer may be a continuously wet pan because the weep holes were clogged with mortar when the setting bed for the tile was installed. In his revered book Setting Tile , Michael Byrne recommends placing tile spacers around the weep holes to keep them from clogging. Others recommend placing gravel or broken pieces of tile around the weep holes to ensure that they stay open. I use paper coffee filters. They are durable, are inexpensive and allow water to pass through the weep holes.
Prior to floating my pan mortar, I remove the strainer from the drain collar and lightly coat the collar and the adjacent pan material with 3M spray adhesive. Then I unfold a paper coffee filter, place it over the collar and mold it into position so that the weep holes are protected. Once I screw the strainer back in place, I'm ready to finish the pan-mortar float.
Frank Pierce, Orange Park, FL