Design
Camp Style in the Thousand Islands
Birch-bark ceilings, a sleeping porch ,and plenty of fireplaces harken back to an earlier era.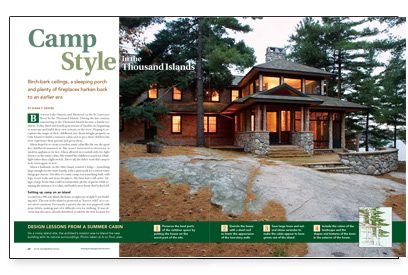 Synopsis: Birch-bark ceilings, a sleeping porch, and plenty of fireplaces hearken back to an earlier era.
Between Lake Ontario and Montreal on the St. Lawrence River lie the Thousand Islands. During the last century, summering in the Thousand Islands became a family tradition. Today, third and fourth generations of families are beginning to renovate and build their own retreats on the river. Hoping to recapture the magic of their childhood, my clients bought property on Oak Island to build a summer cabin and to give their children the river experience their parents had given them.
Alison hoped to recreate a modest, rustic cabin like the one she spent her childhood summers in. She wasn't interested in electricity or modern appliances. In fact, Alison allowed us to install only two light fixtures in the entire cabin. She wanted her children to reach for a flashlight rather than a light switch. Above all, she didn't want this camp to look extravagant or new.
Alison's husband, on the other hand, wanted a lodge—something large enough for the entire family, with a quiet nook for a retreat when things got chaotic. His idea of a rustic camp was something built with logs, wood walls, and stone fireplaces. My firm had a tall order: Design a large house that could accommodate plenty of guests while retaining the intimacy of a cabin, and build a new house that looked old.
Setting up camp on an island
Located on a 380-acre island, the house occupies one of eight 5-acre building sites. The rest of the island is protected as "forever wild" in a conservation easement. Previously a quarry, the site was peppered with stone debris, making part of it difficult even for walking. It was obvious that this area, already disturbed, would be the best location for the house. The finished cabin takes advantage of natural stone terraces on the shoreline as usable outdoor spaces and preserves mature trees for privacy and for screening the house from the river.
Building on an island is challenging. Without machines to move the debris, we decided to build on top of it, anchoring concrete piers to bedrock to support the frame. Assuming we would run into problematic field conditions and tree roots that we hoped to spare, we used a steel frame for versatility. Steel beams can span longer distances than wood and therefore require fewer piers. Also, with steel beams, pier locations are more flexible, which allowed us to dodge roots and other challenging conditions.
Keeping a low profile
Including two screened porches, the cabin is 3800 sq. ft.—not huge by contemporary standards, but not easy to hide, either. To make the cabin appear smaller, we created some optical illusions. First, with an L-shaped footprint, the entire cabin cannot be seen from any one view.
Topped with a gable, the second floor sacrifices space to help make the cabin appear smaller. Midway between the first and second floors, a shed roof encircles nearly the entire house. This lower roof visually interrupts the two-story wall, lowering the perceived height of the house. Smaller forms such as the gabled entry porch and circular sitting room also divert attention from the size of the main structure.
For more photos and details, click the View PDF button below:
View PDF