Tools & Materials
SawStop Revisited
SawStop inventor launches own line of safety-minded table saws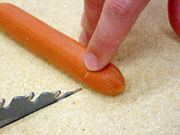 More than 2-1/2 years ago, we reported on an exciting new safety brake that could save the fingers of thousands of table-saw operators. Most of us are familiar with power-tool brakes that stop a spinning blade quickly to prevent injuries; this one stops the blade immediately to minimize an injury.
Briefly, the instant that the SawStop safety brake detects contact between a spinning blade and a finger, or other flesh-like object, the device explodes like an automobile air bag, bringing the blade to a dead stop within 5 milliseconds. If your table saw is equipped with a SawStop, and you're the injured party, you end up with a Band-Aid or at most a few stitches, rather than microsurgery or a lifetime disfigurement.
The only downside to the SawStop is that, like an airbag, it's not an aftermarket retrofit. Saw manufacturers have to retool their production lines to accommodate this safety feature, and that's where the problem lies. Today, almost three years after the SawStop was introduced, not a single tool manufacturer has stepped up to adopt this important safety feature.
Early on, a few potential clients expressed concerns about the reliability of the device, claiming that it was not adequately sealed against dust and that extremely wet lumber might cause the brake to engage inadvertently. SawStop founder Steve Gass says that he carefully examined these criticisms and made all of the necessary corrections, yet still found little interest on the part of saw makers.
"Having heard all of the various reasons put forth by the manufacturers for not doing anything, I firmly believe it simply comes down to money," says Gass. "They cannot figure out how to make more money by adding SawStop. They are not paying for the injuries that occur now, so why should they spend money to change their product to eliminate a cost they aren't bearing?"
Gass estimates that the cost of retooling to accommodate his device could initially add as much as $150 to the retail price of a typical contractor's saw, but he predicts that large-scale production should be able to bring that costs below $100.
The SawStop stops the blade when it contacts flesh or a flesh-like object (see a video of this feature in action).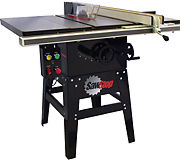 Fortunately, builders who value their fingers will soon be able to purchase a table saw that's equipped with this safety device, but the tool will be made by SawStop itself . Gass had planned to stay out of the manufacturing process altogether and simply license the SawStop technology to any interested manufacturer; but since that hasn't happened, his company recently contracted with a Taiwanese power tool factory to build its own line of table saws (on those days when the assembly line is not cranking out similar tools for Grizzly, Jet, or Delta).
By the end of this year, SawStop expects to be producing a heavy-duty 10-in. contractor saw (base price: $699), and a stationary 10-in. cabinet saw (base price: $2,199), both of which feature the SawStop contact detection braking system. Either of these tools can now be pre-ordered on the company's Web site (www.sawstop.com).
If you're concerned about the reliability of the braking system or the general quality of these tools, Fine Homebuilding will soon be testing a prototype of the SawStop contractor saw and we'll report our findings in a future issue of the magazine's Tools & Materials department.
Although SawStop is now committed to the manufacture of its own saws, Gass hopes that his example will persuade reluctant manufacturers to get on board and make use of this technology. He promises that no one (himself included) will ever be granted exclusive rights to this important safety feature.
Tom O'Brien is an associate editor for Fine Homebuilding. Photos courtesy of SawStop