Tools & Materials
Drilling Concrete? Get a Rotary Hammer
Here's a look at six tools that bore holes up to 1 in. but also chip concrete and even bore large holes in wood.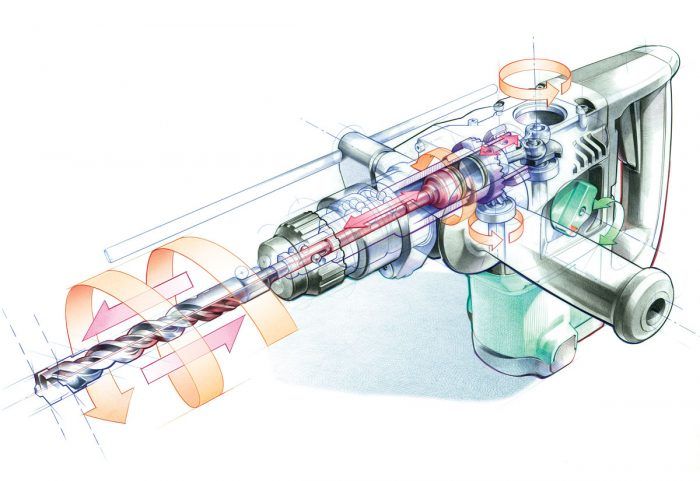 Synopsis: Need to drill some holes in concrete or masonry? Nothing beats a rotary hammer. We test six of the best to help you find out which one is right for you — and your budget. Additionally, we examine eight types of concrete anchors to help you decide what to do once you've drilled your holes, and we highlight five types of bits that will enable you to do a lot more than just drill.
---
Concrete is a versatile but unforgiving material. The same qualities that make it so useful also make concrete tough to work after it has cured. The most common way that builders, remodelers, and carpenters encounter cured concrete is when they need to put holes into it, such as for anchor bolts, pins, dowels, and plumbing or electrical chases.
You could make holes the old-fashioned way, with a hammer and a star drill a piece of hardened steel that's struck, then rotated, struck, then rotated to get a hole, eventually. Or you could use a hammer drill for a few small holes. But for quickly drilling a lot of holes in concrete or in a masonry wall, nothing beats a rotary hammer. Look out, though: With competition fierce and manufacturers making a broad range of rotary hammers to fill subtle niches, the number of choices available can be overwhelming. To make a first pass at limiting your search, ask yourself what size holes you intend to drill.
Start by choosing the right-size tool for the job
Rotary hammers fall into two general size classes: The smaller ones accept bits with SDS or SDS-plus shanks, and the larger hammers use either SDS-max (looks similar to a larger SDS bit) or spline drive (looks like the spline on a drive shaft or truck axle). Within these classes, the tools are categorized by their nominal drilling capacity, or the largest hole that the tool is designed to drill efficiently.
Even though rotary hammers are available with drilling capacities from 3 ⁄4 in. to 2 in., 85% of all holes drilled in residential construction are 3 ⁄4 in. or smaller. This is a good point of departure for narrowing the field, but there's more to the story.
Constantly operating a power tool at full capacity may fall within the manufacturer's specifications, but over the long haul, you, the tool, or both may suffer early burnout. A little extra power goes a long way toward improving comfort, ease of use, and productivity.
Of course, too much of a good thing shows up as extra size, weight, and cost. The happy medium for most residential work falls within the 1-in. to 1-1 ⁄4-in. range of drilling capacities. These rotary hammers, at the upper end of the SDS category, drive 3 ⁄4-in. bits smoothly without working too hard. All the hole-drilling tests for this review were done with 3 ⁄4-in. bits.
Don't underestimate their versatility
Even though the 1-in. to 1-1 ⁄4-in. rotary hammers generally are used for boring concrete, they also have rotary-only (drilling) and hammer only functions. What sets this class apart is that unlike smaller rotary hammers, the hammer-only function on the 1-in. to 1-1 ⁄4-in. models is powerful enough to be useful. This size is great for light demolition, removing tile, brick, block, and small amounts of concrete, especially in tight spaces. In drilling mode, these rotary hammers also can be used to bore large holes in wood.
For more photos and a review of the six best rotary hammers, click the View PDF button below. 
View PDF