Custom-Made Tool for Inserts
Create an installation tool that works well with only two nuts, a washer, and a full-thread bolt.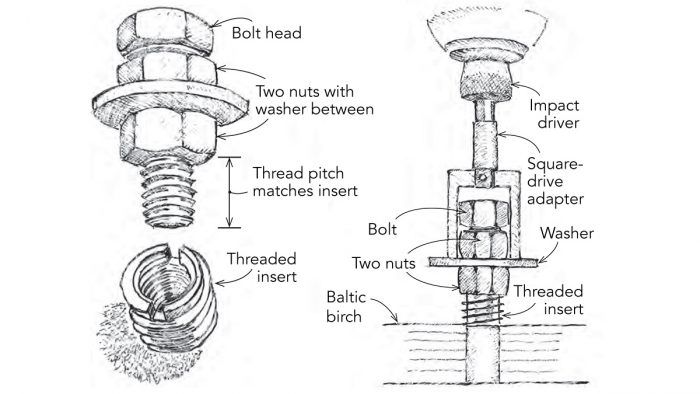 Threaded inserts are handy for all kinds of woodworking and construction projects, but installing the straight-slot-type insert without the manufacturer's specific installation tool can be a challenge. Even when driving them into softer wood using a perfectly sized straight-slot screwdriver, the slotted part of the insert is prone to breaking, and it's difficult to keep the screwdriver from slipping out of the slot and gouging your project.
Here's a field-expedient installation tool that works well with a drill/driver or even a ratchet wrench. All that's needed are two nuts, a washer, and a full-thread bolt at least 1-1/4 in. long in whatever thread pitch matches the insert. Thread one nut up to the head of the bolt and align the flats of the bolt head and the nut. Put the washer on the bolt, and then tighten the second nut up against the washer. The washer will prevent the drive socket from going too deep and wobbling around, making it easier to finesse the insert into the pilot hole at the proper angle and depth.
—David Crosby, Santa Fe, N.M.
Edited and Illustrated by Charles Miller
Published in Fine Homebuilding #310
---
RELATED STORIES